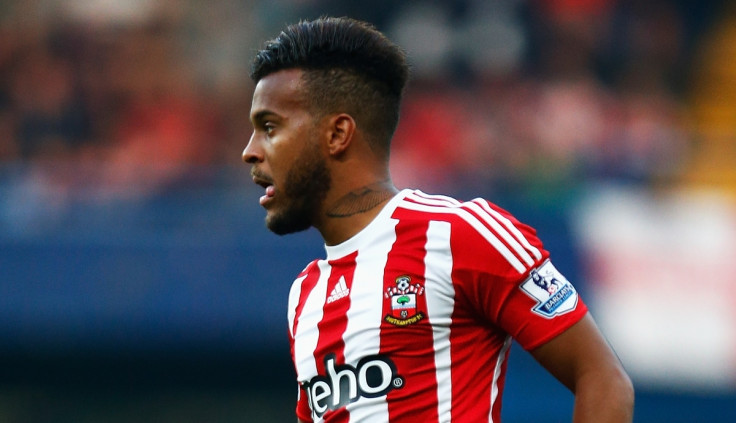 Southampton defender Ryan Bertrand is hoping to take advantage of injuries to Manchester United's Luke Shaw and Everton's Leighton Baines and become the first choice left-back for England in the 2016 European Championships. Bertrand has been included in the 24-man squad for the international double-header against Estonia and Lithuania, with his main rivals for the full-back berth both set for lengthy periods on the sidelines.
Shaw suffered a double leg break in the Champions League clash against PSV Eindhoven and has been ruled out for six months, while Baines is out until at least late November after undergoing ankle surgery. The duo were included in Roy Hodgson's squad for the 2014 World Cup but Bertrand has ambitions of forcing his way into the reckoning, having overcome his fitness issues of his own.
Bertrand missed the start of the campaign for Southampton with a knee injury but has played in each of the club's last three games, including the 3-1 win over former side Chelsea, leading to his inclusion in the latest England squad. And after seeing the United and Everton pair struck down, the 26-year-old is optimistic over his long-term international aspirations.
"It's good to be back [in the England squad] but I can't go rushing up and down like a madman just yet," Bertrand said, according to The Guardian. "But as each game goes by I get fitter and fitter and hopefully I can get back up to where I was last year and crack on from there.
"It's always a pleasure to be called up for your country. It's on everyone's minds, especially with the Euros coming up. Everyone will be going there vying for a place and looking to cement their place for the summer.
"The left-back place is certainly up for grabs. Even with everyone fit, to be honest, no one's nailed it down. It's about who really goes in there and grabs it by the scruff of the neck and makes it their own. Hopefully it can be me."
Though United and Everton expect Shaw and Baines to play again before the end of the season and stake a claim to be included in England's Euro 2016 squad, Bertrand has the upcoming qualifiers as well as the friendlies against Spain and France in November to impress before they are due to resume their respective seasons. Since making his debut in August 2012, Bertrand has been in and out of the squad making just four appearances, his most recent coming against Ireland last summer.
Despite breaking his leg in two places in September, Shaw has already made significant strides towards a full recovery, having already begun putting pressure on the injury less than three weeks after the incident. United are hopeful he will only be out for six months but it is yet to be seen how successful the remainder of his recuperation will be.