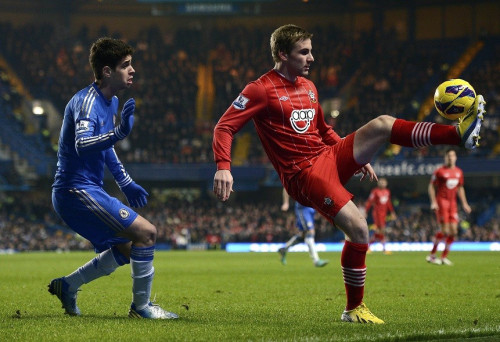 Luke Shaw has reportedly told Southampton he isn't interested in a move to Manchester United or Chelsea this month.
Shaw has been an integral part of the Saints' line-up since making the move from the youth side into the senior squad in 2012 and his showings for England at Under-21 level have left many questioning whether he will make a move to a big club soon.
United and Chelsea are both said to be in the market for a left-back but Metro claims that Shaw has said he won't push for a move away from his current club, with Southampton chairman Nicolas Cortese also turning away any suitors interested in the teenager.
Former United man Paul Parker recently commented that Shaw could be an even better move for David Moyes than long-term target Leighton Baines, insisting that big things are ahead for the youngster as he continues to develop at St. Marys.
"If you're going to spend money and you're looking for a bit of return on your investment then Luke Shaw is the one you want to get," he told Talksport.
"As a good as Leighton Baines is, his price will be very high and where is your return? That's the worrying point.
"Shaw has done very well so far this season and he's a young player they can build into future teams."
But should United seriously pursue Shaw they would face tough competition from Chelsea who have already confirmed they are hoping to bolster their squad in the January transfer window. But the full back, who signed a new long term contract with the club last summer, who appear to be content with life at Southampton for the forseeable future.