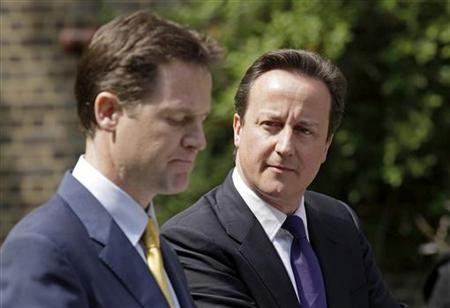 Local election results from across England have pointed to a strengthening of both the Conservative and Labour parties, while the Liberal Democrats have taken a battering.
The Lib Dems, who are currently the junior partner in a coalition government with the Conservatives, were expected to see a poor set of results. Before the general election in May 2010 the party pledged not to vote for increases in university tuition fees and painted itself as being left of centre.
However their decision to join the Conservatives, to increase tuition fees and approve government spending reductions appears to have left many former supporters fuming. The Lib Dems in response claim that they have made tough decisions in the national interest and have managed to get concessions that a Conservative government alone would not have considered, such as raising the tax threshold to £10,000.
Voters appeared to be unconvinced however. By 17:00 on Friday, with 233 out of 279 councils declared, the Lib Dems had lost half of their councils more than a third of its councillors.
Most of the ground lost went to Labour, which nearly doubled the number of councils under its control and increased its number of councillors by more than 50 per cent.
Although Labour have made the most gains, the Conservatives also gained new councils and councillors, despite expectations that it would make losses due to its implementation of spending cuts.
Smaller parties had mixed fortunes, with the Greens seeing a sharp rise its number of elected councillors. UKIP and the BNP however made net losses.
Below are the figures as of 17:00, with 233 out of 279 councils having declared.
Councils
Councillors
Party
Total
+/-
Total
+/-
Conservative
125
+4
3826
+55
Labour
54
+24
2081
+692
Liberal Democrat
8
-8
841
-579
Green
0
0
61
+20
UK Independence Party
0
0
3
-3
British National Party
0
0
2
-9
Residents Association
0
0
22
-4
Liberal
0
0
8
-2
Boston
0
-1
4
-14
English Democrats
0
0
2
+1
Independent Community and Health Concern
0
0
1
-3
Independent
0
0
0
0
Respect
0
0
0
-2
Socialist Alternative
0
0
0
0
The Toad Party
0
0
0
-1
Others
0
0
469
-167
No Overall Control
47
-19