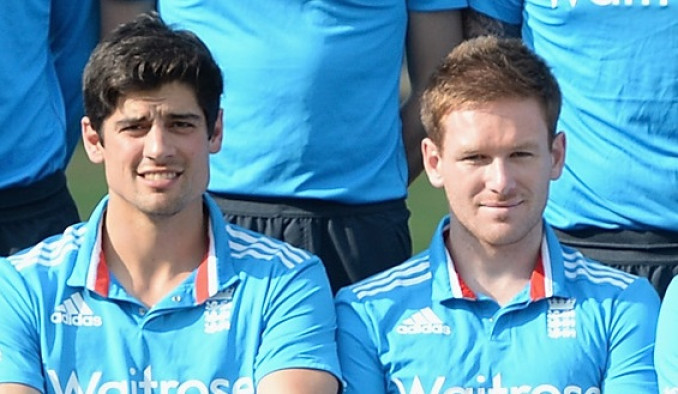 Eoin Morgan will replace Alastair Cook as England's one-day captain ahead of the World Cup, the England and Wales Cricket Board have confirmed.
A selection meeting on Friday concluded that Cook – who averages 27.52 in his last 20 ODI matches – would not be selected in the touring party for the tri-series against Australia and India and the World Cup in February.
Manager director Paul Downton said: "I have complete confidence in the decision made by the selectors and having spent time with Alastair yesterday he accepts that it has been made in the best interests of the one-day side."
Cook, who will remain at Test skipper added: "I am gutted to be left out of the World Cup squad and it is likely to take me a while to get over the disappointment.
"That said I wish [coach] Peter [Moores], Eoin and the lads all the best for the World Cup. I would also like to thank all the players and fans who have supported me during my time as one-day captain."
Morgan has captained England on eight occasions in the 50-over format across his eight-year one-day career, but takes the reins with the team having won just nine of their 25 matches in 2014, a string of results which culminated in the 5-2 series loss to Sri Lanka.
"It is a huge honour to captain England and I am delighted to be leading the one-day side," the Irish-born batsman said. "I firmly believe that with the players currently involved in the one-day setup we have the makings of a very good one-day side, a young side that can surprise people at the World Cup.
"We all recognise we still have a lot of work to do on our one-day game but the potential of this group of players is huge and it is now up to us as players to turn that potential into consistent performances on the international stage starting next month against Australia and India."
The 15-man World Cup squad, which is also expected to include Gary Balance, will be announced at 11am.