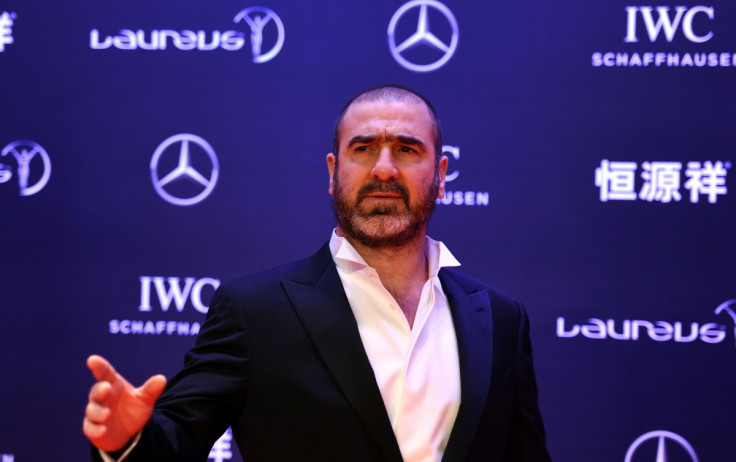 He rose to fame as one of the best footballers to ever play the beautiful game but almost 20 years after hanging up his boots, good Eric Cantona is making headlines. The 49-year-old star has posed nude for the latest issue of Elle magazine.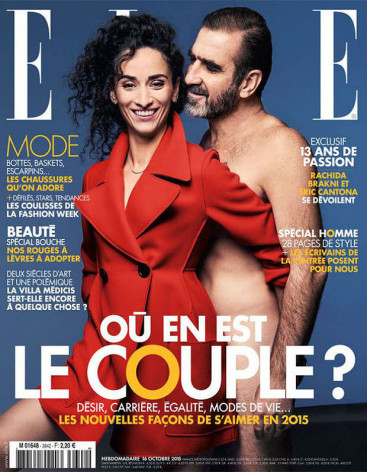 In the new images, which surfaced on 16 October, Cantona grins as he straddles his fully clothed wife, Rachida Brakni, a well known French actress. Although he manages to maintain his modesty by positioning himself around her, she returns the favour by placing her arm behind him.
The caption reads: "She's super feminine, he's super manly... and it's him that we've undressed."
If the cover shoot was not risque enough, the centre spread is even steamier. One graphic image shows Brakni groping Cantona's naked bottom with a look of pure glee on her face. If anyone ever wondered how hairy his derriere was when he reigned supreme in the Premier League, this image provides the answer.
Another sees him, sans clothes, of course, spooning the 38-year-old beauty. The couple who been together for 13 years and live in the south of France, are locked in a passionate gaze and leave little to the imagination.
As expected, their accompanying article delves into love and relationships but not everyone was pleased with their raunchy display, with the super fit star causing shockwaves.
But it was not all bad, some fans hailed the sportsman for having the guts to bare all while others praised the magazine for turning a man into a sex symbol for a change. One Twitter user wrote: "It's cracking to see Eric Cantona stripping naked for the front cover of a French magazine."
Back in April, Cantona refuted claims he starred in a soft porn film, insisting You And The Night is a "piece of art". In the film, he plays a character called The Stud, appearing in many scenes dressed in nothing but his white underwear.
"Porn? No, it's not porn. It's a piece of art. It's just a piece of art. But you can see it like this," he said at the Laureus Sports Awards in Shanghai. "It's beautiful. You should see it. Unfortunately, porn is not so aesthetic and so beautiful. But love is sex also, you know?"