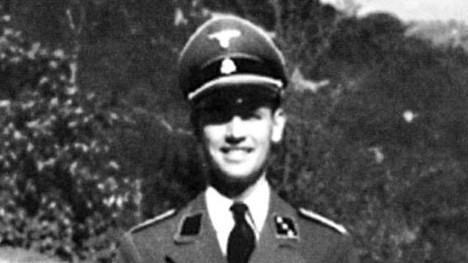 The son of late Nazi war criminal Erich Priebke has sparked moral outrage by suggesting his father should be buried in Israel, after a number of authorities around the world refused funeral rites for his corpse.
"Where should he be buried? To me also Israel would be good, so that they're happy," Jorge Priebke, told Italian Ansa news agency.
"It's unfair," he added, referring to the controversy over his Priebke's funerals. "Why they always pick up on someone [for things happened] during war time, more than 60 years ago.
"They should stop being such a pain in the neck, they are resentful, they've been a pain in the neck to the world since before Christ," Jorge Priebke said.
Efraim Zuroff, the head of the Simon Wiesenthal Centre, told IBTimes UK Priebke's son didn't even deserve a response.
"He is an ignorant racist sympathetic to the Nazis. What he cares about is the memory of his father but unfortunately for him and especially for us his father was a Nazi murderer," said Zuroff, who wrote a book on the Jewish Nazi-hunting organisation's'activity titled Operation Last Chance: One Man's Quest to Bring Nazi Criminals to Justice
"It is exactly this kind of anti-Semitic comment that helped creating the background for the rise of the Nazi party."
Zuroff suggested Priebke's body should be sent back to Germany and incinerated.
"The victims of the Nazis had their bodies burnt and their relatives had no place to go [to mourn them]. That's exactly what he [Priebke] deserves," he said.
Priebke a former Schutzstaffel (SS) captain died aged 100 in Rome, where he was serving a life sentence over the so-called Ardeatine Caves massacre.
On 23 March 1944 he oversaw the execution of 335 Italians in retaliation for an attack by partisan troops that had killed 33 German soldiers.
Those executed were shot in the back of the head in the ancient Ardeatine Caves in central Rome. Victims included political dissidents, underage boys, about 80 Jews and a Catholic priest.
Priebke never showed remorse for his crime nor for the horrors of the Nazi regime.
In an interview recorded months before his death, he denied the Holocaust and defended Adolf Hitler and the Nazi ideology.
He claimed Jews were partially to blame for their persecution and that death camps and gas chambers were a lie made up by the US after the war.
Thus the Vatican refused him a church funeral, citing a canon law that bars ceremonies for manifest sinners who refuse to repent.
Rome's mayor said he would ban a public funeral. He was echoed by the mayor of the small town of Pomezia, who insisted there was no room for Priebke's body in the local WWII German military cemetery.
"This unrepentant mass murder does not deserve a funeral in the City from where he took innocent Christians and Jews to their death," said Rabbi Abraham Cooper associate dean of the Simon Wiesenthal Center.
Burial was also denied by Priebke's native town of Hennigsdord, on the outskirts of Berlin, and by Argentina, where the Nazi criminal lived for about 50 years after the war.
"Foreign Minister Hector Timerman has given the order not to accept the slightest move to allow the return of the body of Nazi criminal Erich Priebke to our country," the Argentinian foreign ministry tweeted.
Priebke's son is still living in San Carlos de Bariloche, where his father was discovered working as a teacher in 1994.
He was extradited to Italy where he was sentenced to life in prison in 1998 but was later allowed to serve his term under house arrest due to his advanced age and poor health.