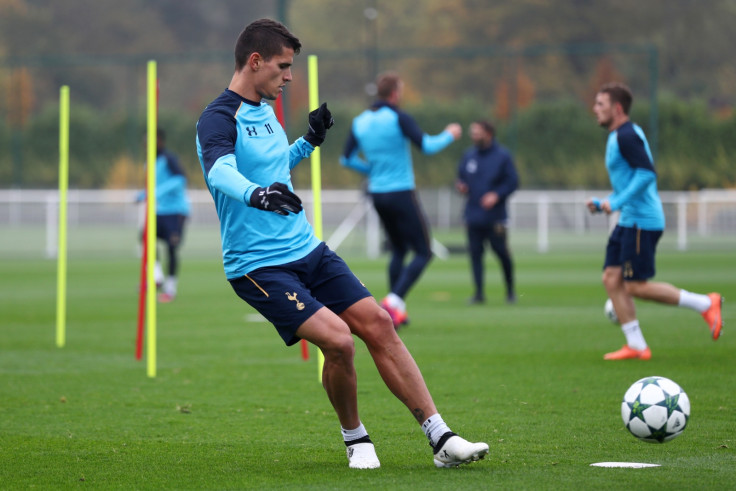 Tottenham Hotspur star Erik Lamela will remain sidelined for the visit of West Bromwich Albion on Saturday (14 January), but Mauricio Pochettino hopes his compatriot will be back to help his side soon. The boss also provided a positive update on the rehabilitation Marcus Edwards after revealing the Spurs starlet is close to return to training with the rest of his teammates.
Lamela is yet to play a game for Tottenham since the 2-1 defeat to Liverpool on 25 October. The Argentina international was recently sent back to his former club Roma for treatment and Pochettino expects to have him back at London next week. The boss said that his countryman is progressing wel,l but refused to set a timeframe on his return to action.
"Every day we have information, he is doing well but we cannot push too much because it's about time for him to recover," the Tottenham boss revealed in the press conference ahead of the visit of West Brom. "Our idea is maybe [he will spend] one week more there and then [he'll come] back to London so we can see which level [he is at] and start to build his fitness for him to try to help the team as soon as possible. It's difficult to say [when he will be back], I don't want to guess again."
The game against West Brom will also come too early for Edwards, but Pochettino suggested that the 18-year-old will be available in the near future.
The talented forward was handed his first-team debut in the EFL Cup 5-0 win over Gillingham in October after Pochettino compared him with Barcelona star Lionel Messi. However, his breakthrough into the senior team was hampered after suffering an ankle in the preparation of the Champions League clash with Bayer Leverkusen.
Asked about the recovery of the youngster, Pochettino said: "Always it's up to the player. It's true that he's still recovering and he is very close to starting to train with the team again."
Pochettino made wholesale changes in his line-up for the Aston Villa game, but he is expected to recall his strongest XI to continue the good run in the Premier League, having secured a streak of five victories in their games against Hull, Burnley, Southampton, Watford and Chelsea.
The boss has no fresh injury concerns, and has told his side to use the victory over the Premier League leaders as a springboard for the rest of the campaign. Pochettino pointed out that Spurs beat Manchester City earlier in October before being held to a 1-1 draw by West Brom in the following game.
Asked whether the win over Chelsea could be a morale boost for his team ahead of the visit of Pulis' side, Pochettino replied: "Yes, but remember a few months ago after City? I think now is a moment to show that we've learned. We have in front of us a very tough game and we need to show that we learned about a few months ago. If you remember, our performances dropped a little bit after a fantastic victory. Now after Chelsea it's a great opportunity to show that we deserve it and to keep the momentum for us will be key."
"I was very pleased after Chelsea because it wasn't our best game but we competed and maybe we missed that a little bit last season – to compete better in some games. Today it's about maturity, it's about learning, about experience. It doesn't mean that we will win every game but it's important to show that maturity that we showed against Chelsea. It's important now to try to be more realistic and try to fight for bigger objectives."