Eritrean rider Natnael Berhane asked Tour of Austria officials not to kick out Branislau Samoilau for racism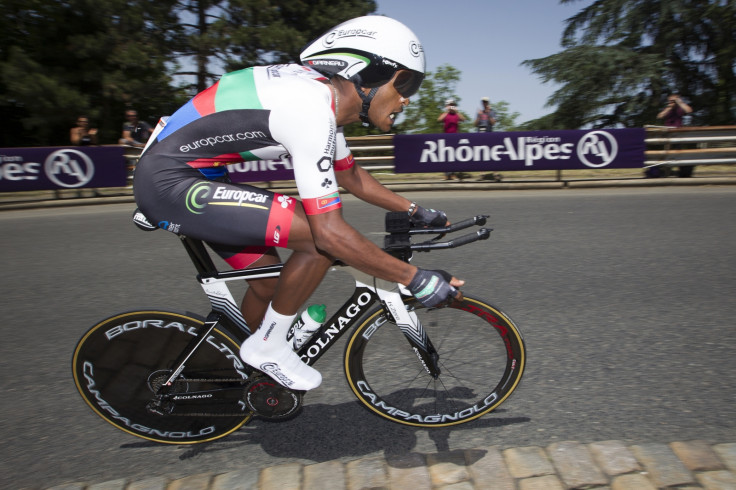 Eritrean rider Natnael Berhane has urged Tour of Austria officials not to kick out a rival who allegedly racially abused him.
The MTN-Qhubeka rider was allegedly called a 'f*****g n****r' by Branislau Samoilau as they raced alongside each other on 8 July.
The Belarusian was called to a meeting with the Tour commissioners along with Berhane and apologised, claiming a language problem.
But even though the UCI, the sport's world governing body, were ready to kick Samoilau out of the race, Berhane said he should be allowed to race.
Team founder Douglas Ryder said: "The UCI fined the rider and went to Natnael and said 'would you like us to pull him out of the race?'
"Natnael said 'no, he apologised, I accept the apology. He can carry on racing.'
"Racism is something that's completely unacceptable, but it happens in the minority. This is the first incident this year and I can't remember an incident last year.
"I'm hoping it's isolated and it was by an individual who is young, doesn't know what he's saying, was in the heat of the moment for whatever reason.
"There's been bullying in the peloton before, but that's across every team; that's not specifically for us. It just happens.
"If this happened all the time the riders wouldn't want to be here, because it would be a hostile and uncomfortable place to be.
"Nobody wants to be an environment like that. You want to be respected, you want to be valued. Everybody works hard. It saddens us in a big way. It's happened, let's move on."
'Racist abuse will not be tolerated by UCI'
A UCI statement said: "The Commissaires' Jury [at the Tour of Austria] has investigated this matter and has stressed that any racist abuse is wholly unacceptable.
"The rider has offered to donate one month's salary to the team's foundation and all parties were satisfied with this action.
"Racist abuse in what ever form will not be tolerated by the UCI."
And Ryder, who founded the team in 2008, insists the racist abuse suffered by one of its riders would not overshadow its Tour de France success.
The team were celebrating on 9 July when Daniel Teklehaimanot became the first black African to wear a leader's jersey at a grand tour.
The Eritrean claimed claimed the polka dot jersey for best climber on the sixth stage of the Tour de France from Abbeville to Le Havre.
Ryder said: "It was a day of highs and lows but we are just really proud to show that African cycling belongs on the European circuit.
"It was an incredible day for South Africa, Eritrea and Africa as a whole as we showed the potential we have to compete at this level.
"This is not a European sport. It's for the whole world and it's amazing that we are here and can show the performance of the riders and how good they are."
© Copyright IBTimes 2023. All rights reserved.