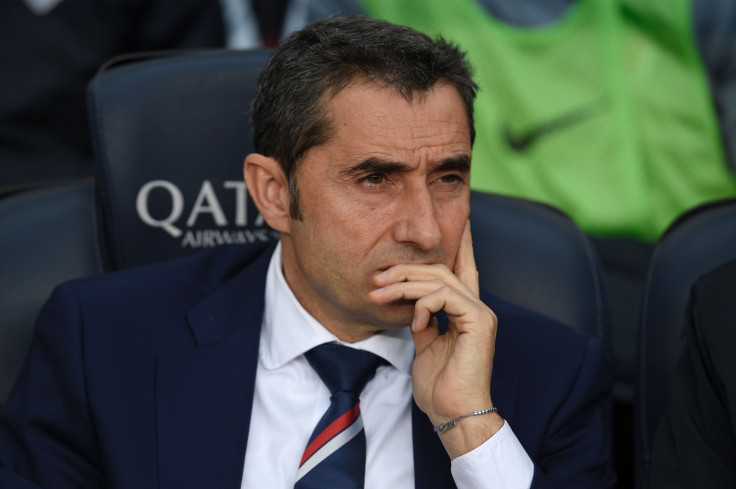 Ernesto Valverde has gone on record as saying he is yet to commit his future to any club, despite reports claiming he is set to become the next manager of Barcelona. The outgoing Athletic Bilbao boss admitted his agent has been approached by some clubs, amid suggestions Arsenal are also tracking his situation.
Valverde, 53, has been tipped to take over from Luis Enrique at the Nou Camp ever since it became apparent the position would be available in the summer.
However, Marca reported last month that Arsenal could battle it out with the Catalans after the Athletic boss received a phone call on behalf of the Gunners amid Arsene Wenger's uncertain future at the Emirates Stadium.
Valverde is out of contract at Athletic but has since refused to rule out any option when asked about either a potential renewal at the Basque side or the reported interest from both Barcelona and Arsenal.
Earlier this week fresh reports in Spain claimed the Spaniard had finally decided to leave Athletic after agreeing a three-year-deal to take over at Barcelona. The deal was expected to be announced after the Copa del Rey final between the Catalans and Alaves on Saturday (27 May).
On Tuesday Athletic added more fuel to the fire after making an official announcement to announce that the Spaniard had decided against signing a new deal.
However, Valverde has now denied having an agreement with any other club during his farewell press conference.
"There have been a lot of speculations about but my future but I want to make it clear that I have no agreement with any club at the moment. I obviously haven't spoken with anyone. But I have an agent and I'm not going to deny that some clubs have expressed interest in me," Valverde said in press conference on Wednesday 24 May.
The former Olympiacos, Espanyol, Villarreal and Valencia manager was linked with Barcelona back in 2014 when the Catalans instead appointed Luis Enrique to replace Gerard Martino. Elsewhere, reports in Spain the following year said he was also the first choice of Real Madrid when Los Blancos hired Rafa Benitez.
Valverde admitted that he turned down proposals from some big clubs in the past, but this time the outcome could be different.
"During this long time at Athletic this is not the first time I have had interest from big clubs but the priority was then to stay here and respect my agreement with Athletic. Now the situation is different and I have to consider whether I start a new project in another club. I have had a lot of doubts, but my work here is done. I think my decision is for the best for everybody."
Meanwhile, asked specifically whether he is likely to take over Barcelona, he added: "When there is a proposal from a club, you will know the answer.
"I don't know what is being published but I am responsible for my own honesty. One day they publish one thing and the next the other. Regarding Barcelona's supposed interest, I don't usually talk about other teams and I won't start doing so now."