Escape from Alcatraz: Scientists say 1962 plot to cross treacherous bay could have worked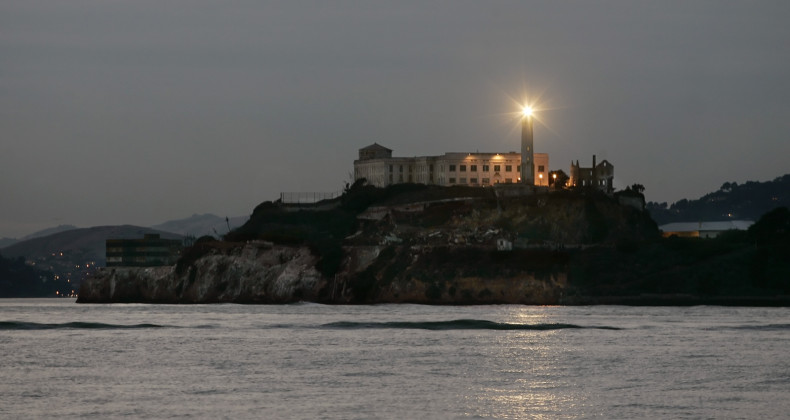 Three prisoners who tried to cross the freezing waters of the San Francisco Bay after absconding from the Alcatraz maximum security prison had a small chance of surviving, it has been revealed by scientists.
In 1962, bank robbers Clarence Anglin, John Anglin and Frank Morris attempted to cross the treacherous bay in a raft fashioned out of raincoats. They were never seen again.
The complex escape plan, which was made in to a film starring Clint Eastwood, involved months spent digging holes. The three even created fake heads to appear is if they were still sleeping in their cells.
The convicts were thought to have left the prison between 00:00 to 02:00 hours on 11 June 1962, but the exact time is not known. Research from a group of Dutch scientists at the Delft University and research institute Deltares said the time of departure would have been crucial, reported the BBC.
If they set off at exactly midnight, they may have made it to land, said the researchers. But if they had left a hour either side of midnight, they were likely to have been drowned. This was because of the movement of the tides and currents between the island and the coast.
Using high-tech computers and algorithms, the three Dutch scientists recreated the possible escape attempt.
Fredor Bart, a hydraulic engineer at Deltares, said: "We didn't know exactly when the inmates launched their boats, or their precise starting point, and so we decided to release 50 'boats' every 30 minutes between 20.00 and 04.00 from a range of possible escape spots at Alcatraz to see where they would end up. We added a paddling effect to the 'boats', as we assumed the prisoners would paddle as they got closer to land.
"The simulations show that if the prisoners had left before 23.00, they would have had absolutely no chance of surviving. The strong currents would have taken them out to sea. However, if they left between 23.00 and midnight, there is a good chance they reached Horseshoe Bay north of the Golden Gate Bridge."
The scientists will present their findings at the American Geophysical Union Fall Meeting in California this week.