Seeing technology help the paralysed walk again has helped Margot Huysman see the technology industry in a different light.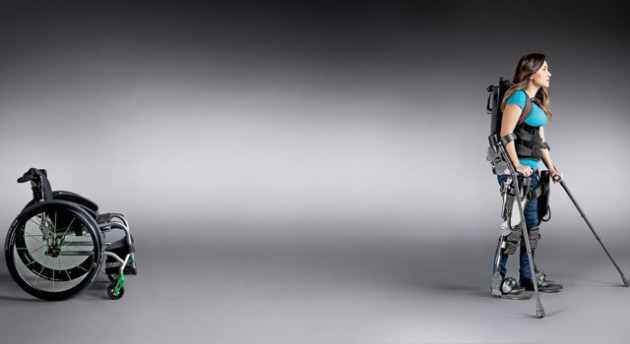 One of the particularities of Wired 2012 conference is that it is not a straight up tech conference. There is good food, the Wi-Fi actually works and the variety of speakers is impressive.
Yes, you get the occasional pitch and the typical tech success story - David Karp of Tumblr for example - but just like Wired is a magazine that concentrates on a variety of subjects at the intersection of technology, the speakers all are from a variety of backgrounds.
Yesterday finished on a particularly emotional note with Ekso Bionics being showcased. In case you haven't come across this incredible company, Ekso uses military technology and applies it to help people with spinal cord injuries and other disabilities walk again.
The idea behind it is to allow people to walk again, with the assistance of a machine; physiotherapists and engineers worked together to bring something that defied what most doctors accepted about the conditions until now.
Allowing people to do the movements, even though they are completely machine-assisted, does help their bodies and eventually leads to tremendous improvements, with paralysed patients able to take up to thousands of steps every day.
And of course, the psychological effects are tremendous.
Demonstration
At the conference, the audience was treated to a live demonstration of this technology, with a paralysed man walking around the stage. No one watching remained unmoved.
And this showcase of technology meets the medical world didn't stop there. This morning's session with professor Ramesh Raskar, scientist at MIT, spoke about using modern technology equipment most people carry around with them - there are more phones than there are toothbrushes in the world - and strapping a special piece of kit to allow for optical tests.
Retina displays and cameras are used to, well, study people's retinas and figure out what the issues may or may not be. Until now, to get your eyes tested, you'd have to stick your eye into a big, expensive, bulky machine. Now, you can attach a small special gadget to your smartphone's camera, bring it up to your eye and it will give you an optical diagnostic.
MIT is also working on changing the way CT scans are conducted, going from a big, static and incredibly expensive machine, to a light portable machine that you can strap around you just like a chest or a headband.
Following from the idea that was touched upon yesterday, that companies and technology can help disrupt industries and bring forward innovation that is about more than just making money, Wired just brought up another few great examples to restore our faith.
Some people out there are doing some pretty cool stuff - and it's changing people's lives, beyond just making shopping online easier or letting you find even more cat GIFs.