EU Financial Transaction Tax: Pierre Moscovici and Wolfgang Schaeuble Pledge to Protect Own Banking Sectors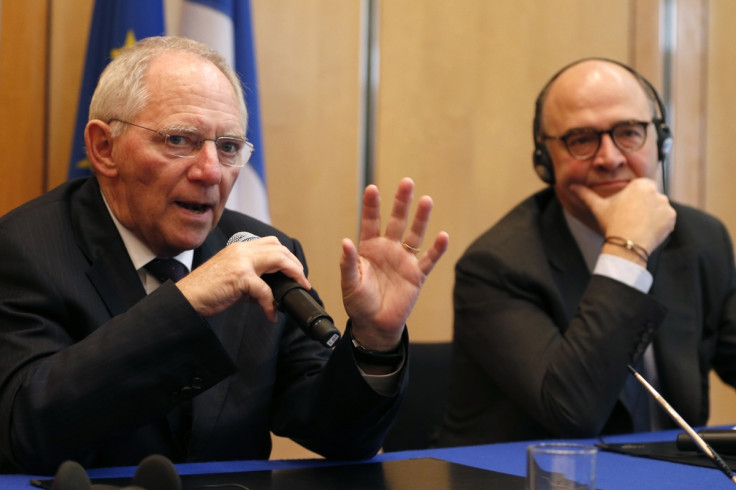 Germany and France said they would take steps to ensure a European Union-wide financial transaction tax did not hurt their own banking sectors.
A Paris meeting between the two countries' finance ministers – France's Pierre Moscovici and Germany's Wolfgang Schaeuble – saw an agreement in principle reached on ring-fencing banks' trading activities from their real economy operations, such as lending to small firms and consumers.
"We have confirmed our agreement in principle on the separation of speculative banking activities," said Moscovici at the end of the meeting.
The FTT has only been agreed by 11 EU member states out of 28, including Germany, France and Italy. The UK, which is opposed, is one of its fiercest critics and has launched a legal action in a bid to block it.
UK Chancellor George Osborne wants to protect the City of London's dominance in global financial markets and thinks the FTT threatens its position.
Under the FTT proposal, shares and bonds transactions would be taxed at 0.1% and derivatives at 0.01%. The EU estimates this would generate revenues of €30-35bn a year.
"We're not against financial transaction taxes in principle but we are concerned about the extra-territorial aspects of the Commission's proposal and I think that concern is shared by some other countries," said Osborne said when launching the UK's legal challenge in April 2013.
EU Council lawyers issued a document that argues the FTT would be in breach of the 28-member state union's treaties and infringe on the sovereignty of national governments.
They say the FTT "exceeds member states' jurisdiction for taxation under the norms of international customary law".
A report by a House of Lords committee attacked the FTT as "significantly detrimental to the UK's interest".
It claimed the FTT would damage institutions outside of the participating states and leave the UK having to collect tax on behalf of others, such as France and Germany.
The report also blasted the EU Commission for what it says is a failure to meet EU law in its FTT proposal.
"The UK government's diffident approach to the FTT, and its reluctance over several months to take seriously this Committee's arguments and concerns, has been deeply frustrating to witness," said the Lords' report.
"It was only after constant and repeated warnings on our part that the government finally awoke to the serious threat to the UK's, and the broader EU's, interests that an FTT pursued by other member states might present."
© Copyright IBTimes 2023. All rights reserved.