The European Commission is investigating Motorola Mobility's alleged abuse of standard-essential patents against Apple and Microsoft.
Opened on 3 April, the two antitrust investigations focus on complaints made by Apple and Microsoft that Motorola is abusing its ownership of patents relating to cellular network standards - for both 2G and 3G - and the H.264 video codec.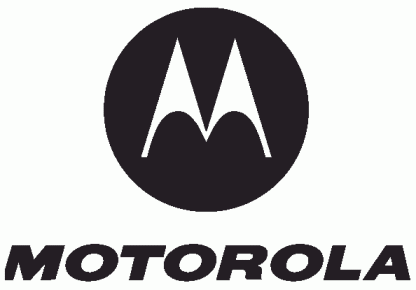 Motorola has previously committed to license the patents on fair, reasonable and non discriminatory (Frand) terms, but Apple and Microsoft believe that the company has abused its position by charging unrealistic licensing fees for others to use the patented technology.
Intellectual property and patent expert Florian Mueller said in his blog FossPatents: "Today's announcement by Europe's top antitrust authority also comes at a very interesting timing with a view to developments in Germany, not only Europe's but even the world's hotbed of Frand patent abuse."
As Mueller explains with the image below, Motorola is asking for billions of dollars in royalties to use just 50 patents, a sum that Microsoft believes to be unjustifiable.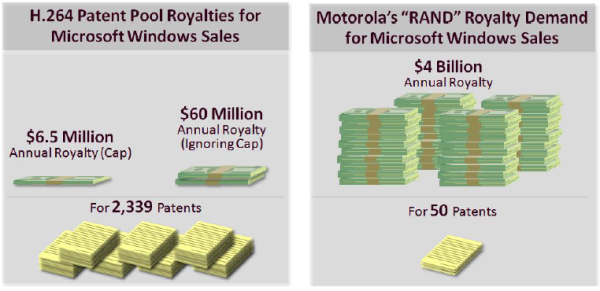 The news comes after Microsoft announced on 2 April that it is moving its European software distribution from Germany to the Netherlands due to an ongoing patent dispute with Motorola Mobility.
The decision to relocate comes before a court decision due on 17 April that has the potential to ban Microsoft from selling Windows 7 and Xbox 360 games consoles in Germany, according to FossPatents.
Microsoft spokesman Thomas Baumgaertner told Reuters: "We would have preferred to keep our European distribution centre in Germany, where it has been for many years. But unfortunately the risk from disruptions from Motorola's patent litigation is simply too high."
The move - which FossPatents claims will affect around 50 jobs - is due to Motorola accusing Microsoft of infringing a video technology patent relating to the popular H.264 video standard, and how it is played back in certain products.
These products include Windows 7, Internet Explorer 7, Windows Media Player and the Xbox 360 games console.
Mueller said: "I regret to say that certain developments in patent enforcement have really turned Germany into a dangerous location for business. Once a patented invention becomes a mandatory part of a standard, the patent can no longer be engineered around. A country [such as Germany] in which such patents can be easily abused to win injunctions is not an advisable place for a European distribution network."
Mueller added: "Dozens of related lawsuits keep courts and lawyers busy, but on the bottom line, patent abuse kills jobs and impedes economic growth.
"Microsoft's decision to move a substantial logistics operation out of the country is only the beginning. Law makers, judges and competition regulators should use the means at their disposal to fix the system before it destroys more jobs."
Moving to the Netherlands is a safe bet for Microsoft, as Dutch courts do not hand down sales bans in patents disputes as readily as German courts do.
Microsoft is not the only technology firm to face legal problems in Germany; Samsung was forced by German courts to stop selling its Galaxy Tab 10.1 tablet and Apple was told to de-activate push notifications from iCloud for some customers in the country.
Search giant Google is currently in the process of buying Motorola Mobility for $12.5bn (£7.8bn).