The UK would lose influence on the European stage if it voted to leave the EU on 23 June, German Chancellor Angela Merkel has warned. Commenting on Britain's upcoming EU referendum, Merkel said it is "in the interests of Britain" to continue to have a seat at the negotiating table.
She added that she personally wanted the UK to remain "part and parcel" of the 28-member state bloc.
The remarks came as a group of economists campaigning for Brexit accused the government of providing "dangerously inaccurate" projections of the economic consequences of leaving the EU.
A poll conducted by the Guardian newspaper last month showed 52% of Britons were in favour of quitting the EU. However, Economists for Brexit (EfB) said warnings of a recession from the Treasury and international institutions like the International Monetary Fund (IMF) were based on a "flawed model".
Loss of influence
"I personally hope and wish that Britain will stay part and parcel of the European Union," Merkel was quoted as saying at a press conference by the Local. "We work well together with the United Kingdom, particularly perhaps when we talk about new rules for the European Union."
The German leader added that the UK will be at a disadvantage if it tries to access the single market from outside the EU while having no influence on the drafting of EU norms.
"You can much better have an influence on the debate when you sit at the bargaining table and you can give input," she said. "It would not only be in our interest, but also in the interests of Britain, if it can bring its whole political weight to the negotiating table. One nation by itself will never be able to achieve such good results."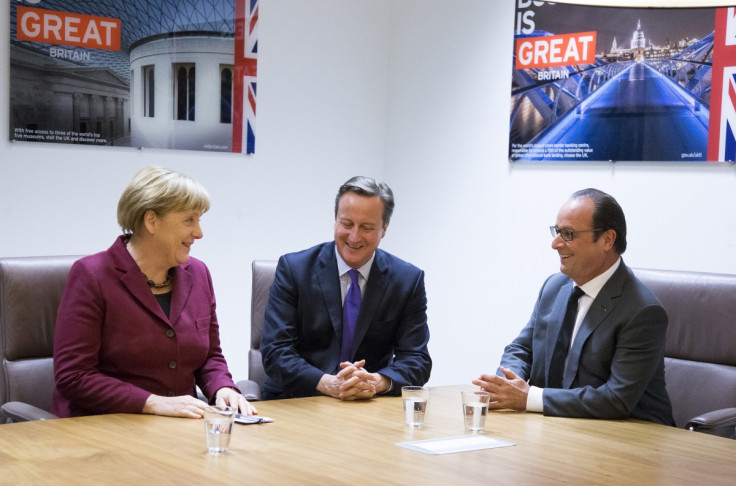 However, EfB argued that British consumers and businesses will benefit from not having to pay EU tariffs on imported goods if the Leave campaign emerges victorious in the 23 June referendum. This will in turn boost economic growth and increase prosperity, the group said.
"The common element in the consensus outside Economists for Brexit is that after Brexit, under the World Trade Organisation option, the UK continues to maintain protectionist tariffs and other trade barriers against the rest of the world, including the EU," Prof Patrick Minford, one of the eight members of EfB, was reported as saying.
"The key difference in EfB is the use of the unilateral free trade assumption under which Brexit is a move towards free trade."
He added: "Groupthink, political collusion and bizarre assumptions have combined to see the economic models of the Treasury and the international institutions provide dangerously inaccurate results to the public."