Dating app Tinder has launched a new campaign to encourage young people to vote in the upcoming EU referendum on 23 June. It comes as a YouGov poll revealed that nearly half (45%) of 18-30 year olds viewed the debate as two groups of old men shouting at each other, while only half (51%) were absolutely certain to vote.
The Swipe The Vote UK project was launched on 1 June and will present Tinder users with a true or false survey, which will include a number of statements prompting young voters to think about some of the key issues of the EU referendum. The campaign was created in collaboration with Bite The Ballot, a non-profit organisation encouraging young citizens to engage in politics.
Sean Rad, founder and CEO of Tinder, said: "The political discourse on Tinder worldwide has reached historic levels. With 85% of Tinder's users between the ages of 18-34, we want to do our part in educating and mobilising our engaged audience on these types of issues, including the UK referendum."
The campaign follows a successful US version of Swipe The Vote, which helped Tinder users identify which presidential candidates they most aligned with and also encouraged them to register to vote. The UK version will aim to do the same thing with the EU referendum debate.
In line with this, Bite The Ballot is seeking to make history by registering 500,000 people to vote within one week. The mass registration drive will primarily target young voters and takes place from 31 May until 7 June, which is the deadline to register to vote in the EU referendum.
Bite The Ballot's co-founder and CEO, Michael Sani, said: "Only an estimated one in four young people are registered to vote ahead of the EU referendum, despite being the most connected generation that has ever walked the earth."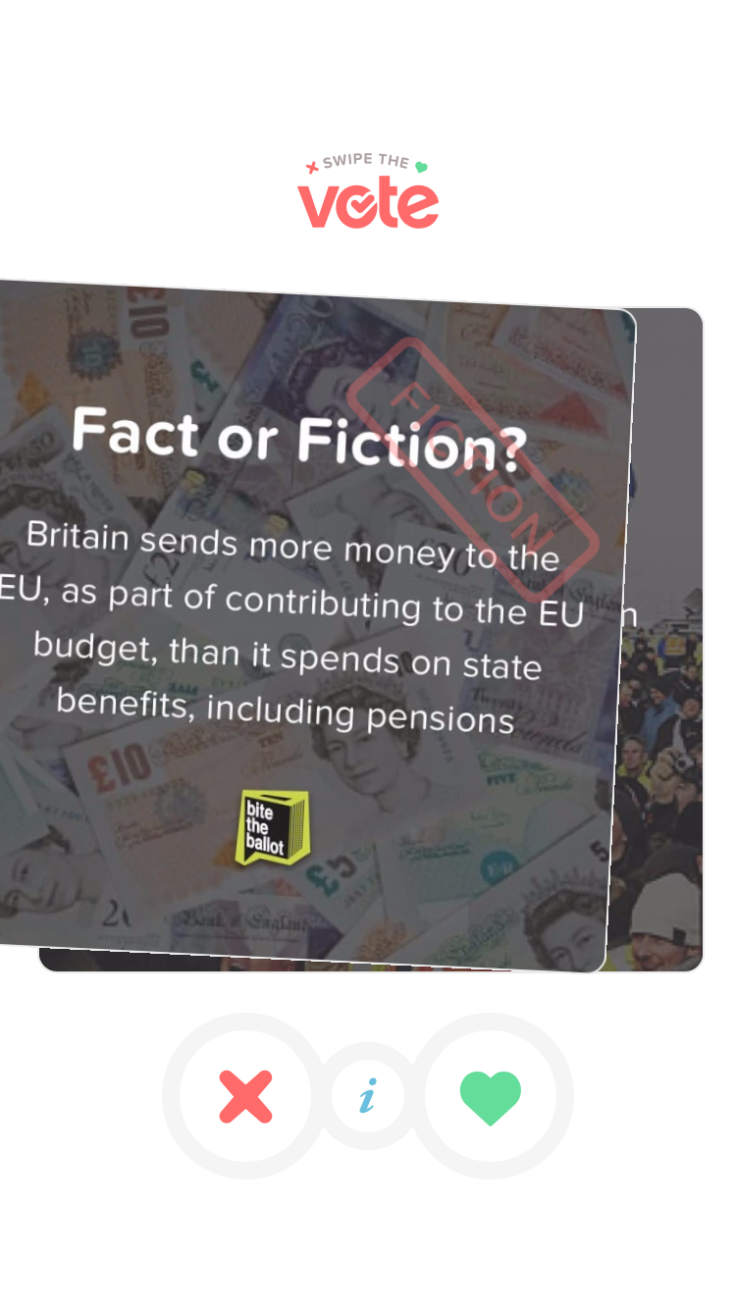 Sani said that through its partnership with Tinder, Bite The Ballot hopes to encourage more young citizens to vote in the EU referendum and emphasise that this is a "once-in-a-generation opportunity where every voter and every vote counts".
The EU-related statements presented on Tinder will allow users to swipe right to answer as "fact" or left to state "fiction". Upon completing the survey, users are expected to have a better understanding of the referendum issues, as well as be presented with a direct link to register to vote.