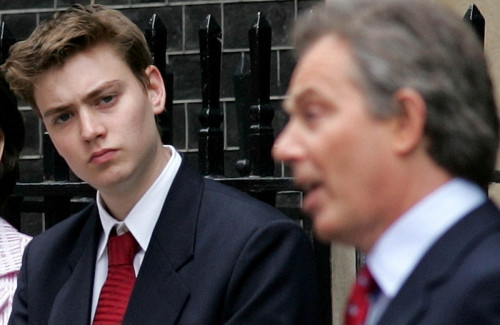 Any hopes Euan Blair has of following in the footsteps of his father, the former Prime Minister Tony Blair, may have been put on hold after the Labour MP he was tipped to take over from was reselected.
Geoffrey Robinson, who represents the Labour safe seat of Coventry North West and is a former Paymaster General, was reselected by his constituency to fight for the West Midlands seat at the 2015 General Election.
Rumours that the 75-year-old would step down before the next election prompted politicos to finger Blair, who works in a managerial post at Coventry-based Sarina Russo recruitment agency, to take over from millionaire Blairite Robinson.
But the latest development will squash expectations that Euan will follow in Tony's footsteps – at least for now.
Robinson, who has always insisted it was his intention to stand again, told the Coventry Telegraph that it was an "enormous privilege" to represent the people of Coventry North West.
"I am extremely grateful to the members of Coventry North-west constituency Labour Party for reselecting me to fight the next General Election," he said.
He added: "I know that there is still more we need to do to face the difficulties in the future and I am delighted to have been given the opportunity."
Other offspring of former New Labour Party cabinet ministers have overtly expressed their ambitions to run for public office.
Will Straw, son of former Foreign Secretary Jack Straw, has even taken the next step and has been selected as the Labour candidate for Rossendale and Darwen for 2015 – a seat currently held by Conservative MP Jake Berry on a majority of 4,493.