As predicted here, the Independent Parliamentary Standards Authority is living on borrowed time.
If it refuses to back down over its proposal to increase MPs' pay by 11% to £74,000 a year then it will almost certainly be abolished.
The last rites were more or less performed by David Cameron in Prime Minister's Questions when he was pressed by Ed Miliband to overrule Ipsa now.
The rise, said Cameron, was "unacceptable" and added that if Ipsa did not think again then "nothing was ruled out". And we all know what that means.
There is, of course, just one little problem. Ipsa was set up after the MPs' expenses scandal to ensure that politicians could never again control their own salaries.
So if it is killed off - by politicians - who will set MPs' pay in future? What about an independent body with the power to reform the whole system and ... oh, hold on a minute.
Yacht-free Blair
There is nothing more ex than an ex-prime minister. Luckily there are compensations and for Tony Blair they have come in the shape of a £75m fortune that is set to push him into the Sunday Times Rich List. Allegedly.
After leaving politics immediately after stepping down as prime minister, Blair embarked on a series of business enterprises, property purchases and speaking engagements which, according to one report, has made him eligible to join the likes of Richard Branson, Paul McCartney and other top earners. That's nice.
And it is claimed that will see him included in the famous list of the country's wealthiest 1,000 people for the first time when it is published next spring.
Only last year, Blair said in an interview: "This notion that I want to be a billionaire with a yacht - I don't. I am never going to be part of the super-rich. I have no interest in that at all."
Absolutely. He doesn't have a yacht.
Puppy power
Shadow environment secretary Caroline Flint clearly has a fine sense of humour. After I suggested that watching her deal with minister Ed Davey was like watching 1,001 Dalmatians' Cruella de Vil skinning a puppy, she tweeted the following with the note "thought you might appreciate this". I did.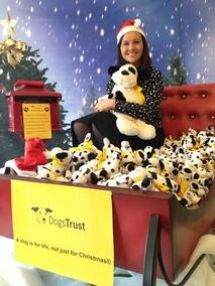 Made-up word of the week
As if there weren't already enough words in the dictionary, some journalists feel the need to make up new ones.
One Washington hack tweeted that President Obama was "memorialising" Mandela. Sounds painful and probably illegal.
Quote of the week
The note of desperation from some Tories about the prospect of an independent Scotland has usually been put down to their unionism. But there might be another reason.
As one senior insider at the Better Together campaign suggested: "Some of the grander Tories are panicking over losing Scotland for the simple reason they own large parts of it."
Pots and kettles
It has been said before but David Cameron really does need to get a better joke writer.
This week he had them rolling in the aisles when he attacked Ed Balls over his performance in the Autumn Statement debate, during which the shadow chancellor turned an alarming shade of puce as he tried to shout above the noise of Tory hecklers.
First we had Red Ed now we have got Redder Ed as well, declared Cameron.
Laugh? Well, no, not really. Five minutes later the prime minister lost his cool when Balls started gesticulating at him from the front bench (nasty) and, you guessed it, turned his usual shade of scarlet.
Christmas Balls
MPs were agog when they filed through the division lobbies and discovered none other than Santa Claus in their midst. Sadly, he hadn't got his sack.
Now, no one likes a party pooper, but they have to be told. He doesn't exist.
That vision you witnessed was none other than Ed Balls as he was preparing to play Father Christmas at the annual children's party for Commons staff.
Make up your own jokes about Labour's spending plans and Ed Balls getting the sack.