England are currently a team full of youngsters, who will have a lot to do before they come close to the likes of World Cup holders Spain, tournament favourites Germany or the established stars of Holland, France and Italy.
Seen as the underdogs in Euro 2012, they're not expected to get very far amongst a group of sides who can boast big wins in the lead up to the tournament.
But England are taking this in their stride, and in the words of Patrice Evra, they're playing to their strengths, which for now are certainly in the defensive end.
Joe Hart was one of the stars of England's match-up with France, with the keeper having made the most saves in the first round of the Euro group stages, according to Castrol Performance Edge Data.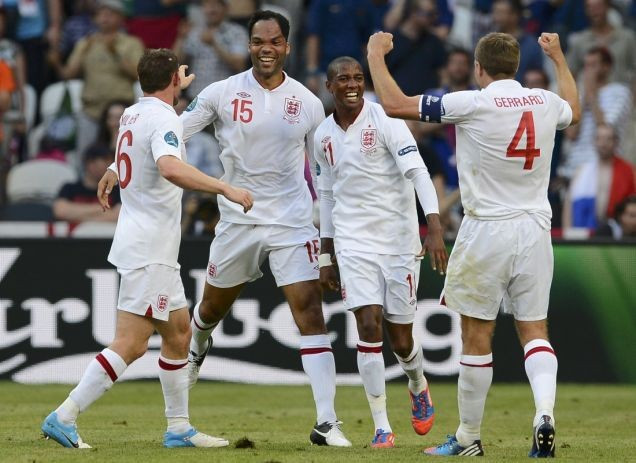 Steven Gerrard and Scott Parker were also up there defensively, with Gerrard making 7 tackles and topping the list with Eugen Polanski of Poland in the first round, while Parker was second on five tackles with France's Alou Diarra.
The duo also topped the blocks list along with Joleon Lescott, with each player stopping the ball from reaching the net three times. Effectively, they helped stop nine goals from France.
While England didn't necessarily 'park the bus' on Monday night the way Evra described Chelsea's performance against Barcelona in the Champions League, the side are aiming to defensively take on the teams they can't challenge in the other areas.
With Sweden to face on Friday night, followed by a rampant Ukraine side led by Andriy Shevchenko, they will no doubt be concentrating on building their defensive line up to beat the goal scorers and finish as high as possible in Group D.
Roy Hodgson said that the match up with the Ukraine will be particularly tough if the group remains close.
"What we know now is that, irrespective of tomorrow's result, we are going to need a result against the Ukraine," he told BBC Radio Five Live.
"It's really bought the third game into focus for everybody in the group. A different result might have lessened that."
In the side's favour, they will have Wayne Rooney back for the last group stage game, but it could well be the other side of the park that provides the key to the side making it further than many have predicted.