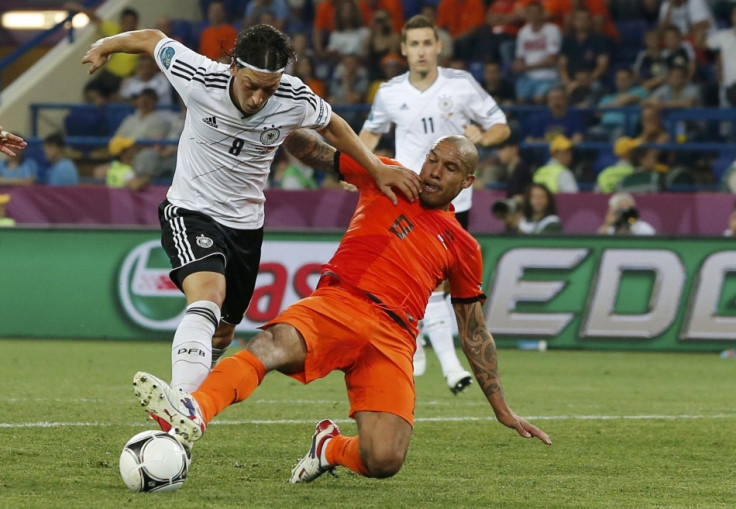 Real Madrid and Germany playmaker Mesut Ozil has sent a warning to England, ahead of Roy Hodgson's Sunday quarter final showdown with Italy at the 2012 European Championships. The winner of that fourth and last quarter final will play the Germans in the semi final.
Germany were clinical and devastating against an overwhelmed Greece side in their quarter final, beating Fernando Santos' side 4-2, with goals from Philipp Lahm, Sami Khedira, Miroslav Klose and Marco Reus. Fresh from that win, in which he played a key role, Ozil has now trained his sights on England (although he admits it doesn't matter who he faces) to expect a repeat of the 4-1 defeat in the 2010 World Cup and the Euro 96 loss at Wembley.
"For us it doesn't matter whether it will be England or Italy. We want to get to the final and we will do everything we can to achieve that," Ozil said, in a report by The Sun. The midfielder's national team mate, central defender Holger Badstuber, was more direct about who he wanted to play.
"I would rather face England. Why? They suit us better," the Bayern Munich player was quoted as saying, by Goal.com, in the aftermath of the win over Greece. Meanwhile, German coach Joachim Low has been decidedly more pragmatic and cautious.
"England are much better than in 2010. Under Hodgson, they are much better organised and counter attack fast. In a short space of time Hodgson has organised them and he is known for this. They are not so open any more, not so divided as they were in 2010. Now they play as a team. Italy also have fast players up front so both teams will be difficult to play against," he admitted.
Low also defended Ozil, who has come under criticism for what many believe are under-par performances so far in the Euros, stating he expected a "big explosion" from his star player. Low pointed out that even at the World Cup two years ago Ozil's best performances were in the knock-out stages. If his play against Greece in the quarter final was an indication, Low might be right, yet again.
Incidentally, England fans will not be happy to hear Low's words of confidence. They will, no doubt, still retain bad memories of the defeat in South Africa and will remember it was Ozil, in partnership with an equally explosive Thomas Muller that undid them. This time around Germany not only still have Ozil and Muller but added the talents of Marco Reus, André Schürrle and Mario Götze to their line-up.
Hodgson will have to come up quite an inspired master-plan to stop Low and the Germans from inflicting another defeat on them. First, however, they have to find a way past Cesare Prandelli and the Italians.