Spain were crowned Euro champions for the second time in a row tonight as the side showed why they are undisputedly the best squad in the world, while Italy came crashing down back to earth after their unexpected win over Germany to go down 4-0.
Spain were less dominant than usual in the first half, with just 48% of possession, but the side were able to make the most of their chances, taking a commanding 2-0 lead over Italy before the half-time break.
By the 14th minute, the current World Cup holders and defenders of the 2008 Euro trophy were already in the advantage, with David Silva converting a brilliant cross by Cesc Fabregas after Andre Iniesta beat Italy's midfield single handedly.
Silva headed from six yards, and Spain were rewarded for their efforts with an early lead over their counterparts, after starting the match more ambitiously than Italy.
The bad news continued for Italy as Giorgio Chiellini came off injured, but after 41 minutes the side were ultimately punished when Jordi Alba scored Spain's second of the match.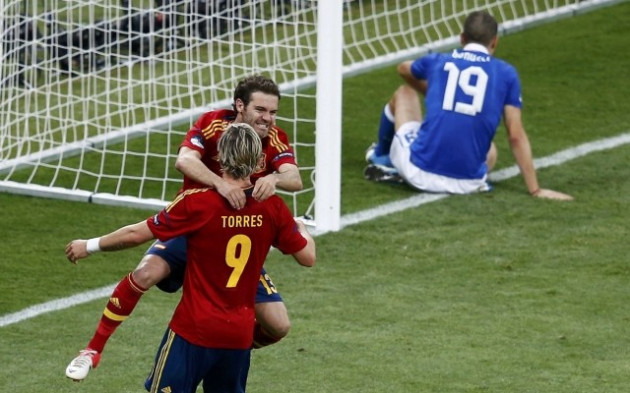 It was the Barcelona signing's first goal in a major international tournament, and the 23 year old showed his worth to the Spanish giants after passing to Iniesta and then running 40 yards to collect the midfielder's pass and beat the goalkeeper into the net.
In the second half, Spain continued to assert their dominance, and after Thiago Motta came off with a calf injury, and Italy ran out of subs, the side were down to 10 men for the final half hour.
Spain kept complete control over the game, and after subbing Fernando Torres on for Cesc Fabregas, the striker scored within 10 minutes after Claudio Marchisio overturned the ball to Xavi in the midfield.
And as Iniesta came off for Juan Mata, the Chelsea man did the same as his club teammate, scoring off the bench to take Spain's tally to four as Mario Balotelli looked a broken man.