At least 50 England and Wales fans were involved in a tense stand-off with French police after appearing to run riot through the streets of Lille city centre. Officers fired tear gas and beat back supporters with truncheons after they were seen kicking cars and shouting "Come on, let's get them".
The unrest happened as England and Wales fans were seen taunting Russian fans on Wednesday (15 June) as they returned from the Russia-Slovakia game at about 6pm, which Russia lost.
Drinking in a bar next to the Gare du Lille station, adjacent to where there were violent clashes on Tuesday night, a loud bang was suddenly heard around the corner, causing the mob of England and Wales to run off.
They were eventually chased by French riot police before becoming involved in a tense stand-off with offices. Tear gas canisters were fired to disperse the mob.
One local Lille resident, said to be her 30s, was seen receiving medical care from paramedics after inhaling the gas. It is not yet known if there were other injuries.
The unrest - which lasted roughly 20 minutes - comes as thousands of extra police were drafted into Lille to prevent a repeat of the violence in Marseille.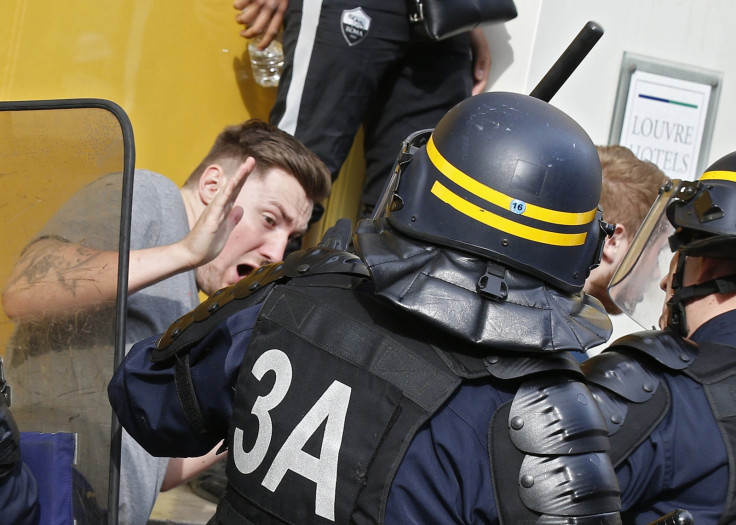 Hours after the unrest, large groups of England and Wales fans were joined by supporters from other countries for what has so far been loud but largely peaceful singing and drinking although this did not appear to include any Russians.
Chants were also directed at the French riot police watching on, including: "Where were you in Marseille?" - a reference to the criticism leveled at French police for reportedly failing to prevent groups of Russian fans attacking England supporters before and after Saturday's game.