Teargas has been used against fans gathering in Lille on Thursday (16 June) a day ahead of the match between England against Wales in nearby Lens, as supporters roamed the streets, sang songs and flouted an alcohol ban.
Video footage on social media showed some England fans becoming rowdy and apparently on the lookout for Russian fans who they had clashed with earlier in the week, but there were few reports of real violence.
Stan Collymore, the former Liverpool and Aston Villa striker, filmed footage from the scene for Periscope, pointing out a Russian who had apparently thrown a bottle and advising England fans to leave the area.
The atmosphere became more tense on Wednesday afternoon according to most eye witnesses, as Russia fans, disappointed with their team's 2-1 loss to Slovakia, arrived back in the city centre full of English and Welsh fans in full voice.
French police are jumpy as they struggle to cope with the hooligans, an ongoing terror threat, strikes and student protests, as well as the loss of one of their own in a terrorist incident.
When a huge bang went off, reportedly set off by Russians, some police sprayed tear gas at supporters and marched suspects away. Several Russian fans have been arrested, according to Sky News.
The Russians are on a final warning and if their fans are involved in any more serious misbehaviour during a match, they could be thrown out of the tournament although having lost they may not be around for much longer anyway.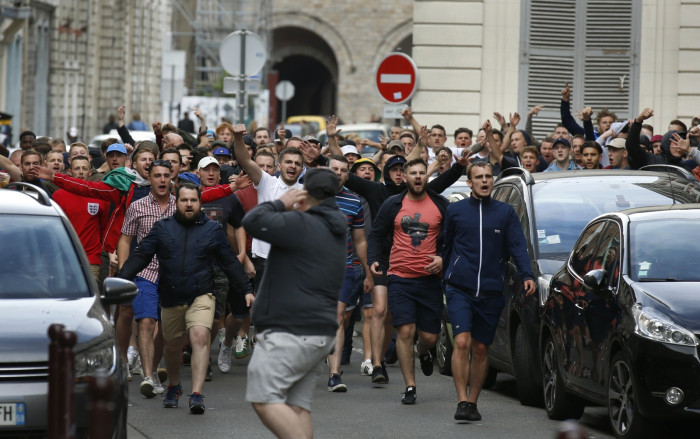 Some Russians in Lille blamed English hooligans for much of the trouble, telling IB Times reporter Paul Wright that most Russians came to have a good time, not to fight.
This version of events was contradicted by a group of Welsh fans who told Wales Online they were attacked for no reason by Russians on Tuesday (14 June) evening.
With England's game against Wales scheduled for 2 pm on Thursday, police and locals will be hoping the Russians move on before things get out of hand and there is a repeat of the far more serious unrest witnessed in Marseilles on the previous weekend.
The English Football Association has liaised with local police to try to prevent serious violence and will also be nervous.