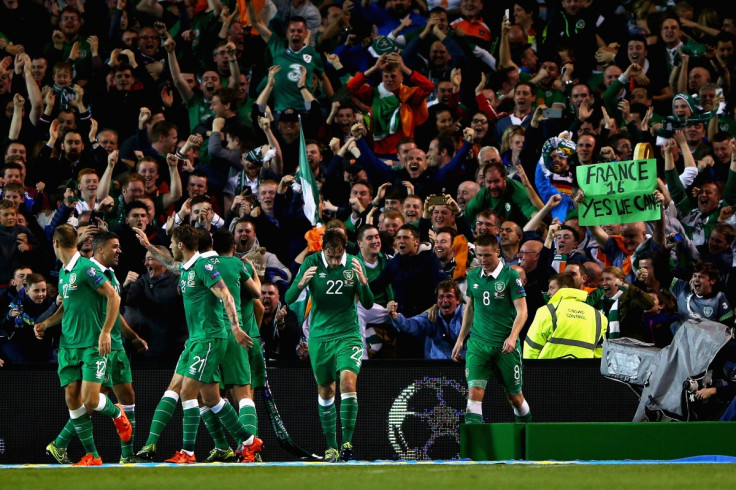 Republic of Ireland can join England, Wales and Northern Ireland at France 2016 if they can find their way past just one more opponent.
Where to watch
The play-off draw is scheduled to take place at 11.20am on Sunday 18 October at Uefa's headquarters in Nyon, Switzerland. You can tune into Sky Sports News to watch it as it happens, with Uefa also streaming proceedings like via its official website.
Preview
After Croatia and Turkey automatically qualified by virtue of being the best third-placed teams in the European Championship qualifying campaign, it is now down for the remaining eight to battle for the last four spots in France.
For the Republic of Ireland, they were within one goal of finishing second and avoiding this entire process altogether. That glorious 1-0 victory over Germany meant a 2-2 draw against Poland three days would have been enough for them to jump up into one of those automatic qualifying spots. It was not to be, however, so once again, the Boys in Green have to do it the hard way.
How it works
Eight teams have been split into two groups; Seeded and unseeded. Who goes where is based on the latest Uefa's national team coefficient rankings.
Seeded teams: Bosnia and Herzegovnia, Ukraine, Sweden, Hungary
Unseeded teams: Denmark, Republic of Ireland, Norway, Slovenia
The draw will ensure that a seeded team will be pitted against a non-seeded team. Simple enough, right?
When the ties will take place
There is not too long to wait. The first legs of the four fixtures will take place during the next international break on 12, 13 and 14 of November. The return legs come on 15, 16 and 17 November.