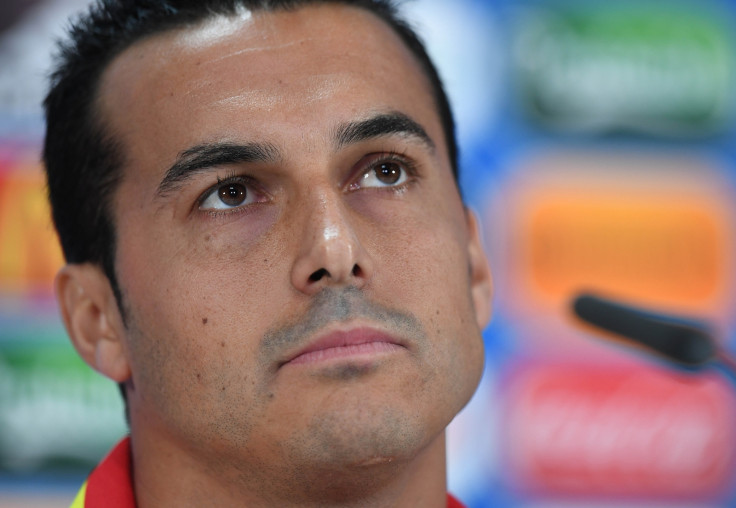 Spain coach Vicente del Bosque has refused to publicly criticise Pedro despite the Chelsea forward slamming his omission from his country's opening two European Championships group matches. The 28-year-old was controversially selected ahead of Atletico Madrid's Saul Niguez and made an eight-minute cameo appearance against the Czech Republic before being an unused substitute against Turkey.
Pedro indicated on Monday (20 June) that he no longer wanted to be part of the squad as a non-playing member after becoming frustrated at his lack of opportunities. The comments sparked a furious reaction on social media which saw fans demand he be withdrawn from the squad.
Journalists put Pedro's comments to Del Bosque on the eve of Spain's final group game against Croatia, but instead of attacking the Chelsea man the ex-Real Madrid boss said his reaction to being omitted was only natural. The World Cup winning coach also hailed Pedro's attitude despite his rare outings.
"What he has said, he did not disrespect anyone. I think his conscience got the better of him a little bit and he just showed a reality of what the 12 players who are not playing all feel," Del Bosque said, according to Sky Sports. "Pedro was a bit angry he is not playing, that is inevitable and can happen. We try to get on well with everyone and for everybody to be happy and comfortable.
"However, it is inevitable that in certain moments with those 12 players who are not playing there will be a bit of discrepancy, that is what happened and I don't think there is anything more to it than that.
"All the news here has been positive so when something negative comes out it is blown out of proportion a bit, but I don't think it will have a lot of repercussions. I don't think we should be too hard on him, and in the 50-plus games he has been here with us, he has been a very correct player."
After becoming a bit part player in the Barcelona team, Pedro moved to Chelsea in the summer of 2015 in order to improve his international chances – however a poor first campaign in west London has seen him tumble down the pecking order. The Canary Islander is behind Nolito and Alvaro Morata – both of whom netted in the win over Turkey – and despite being one of the most experienced members of Del Bosque's squad his opportunities are unlikely to improve.