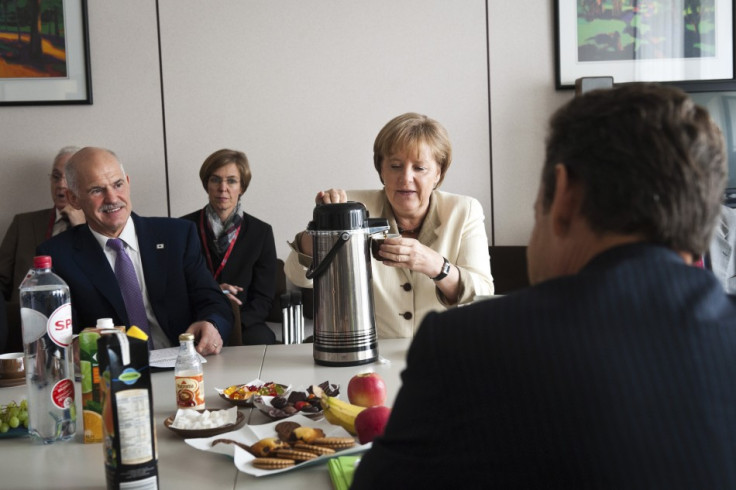 The package given to Greece last night by Eurozone leaders is nothing more than a selective default according to journalists. The Eurozone has realised that it can't move forward without France and Germany co-operating and the markets have responded to the compromise. However, with further private sector involvement in a new fiscal package for Greece is surely just delaying the inevitable - a full Greek default?
France and Germany agreed in principle to underwrite new loans and promised Greece twice as long to pay the old bail out. The burden on Greece has eased but many observers are asking why it took so long for France and Germany to come together and agree? Why did it take a punishing few months for a compromise to be agreed?
The fiscal details of the meeting are very complex and journalists are still arguing whether the figures actually add up. The diplomatic reality is simple. What is clear is when France and Germany work together Europe moves forward. Their differences over the past months have been punished by the markets and now it seems Angela Merkel and President Sarkozy have put their differences to one side for a united Europe.
A partial default for Greece is on the cards with debts being reduced, amount to be rapid reduced, interest rates reduced and the promise to allow Greece double the amount of time to clear their first bailout package would suggest a partial default has occurred. However, Managing Director of the IMF Christine Lagarde has rejected that yesterday's unity was a selective default. She told Newsnight: 'The package is not a default it was not the spirit in which discussions were held. European Leaders of the Eurozone came together in the way they did. Clearly it was a new experience of collective, comprehensive and constructive talks.'
Yesterday was a day in which the Eurozone needed to become a united fiscal and political body and in the main they have pleased the markets. Europe is quaking in its boots over a potential Italian or Spanish financial crisis and the leaders of the Eurozone need to stop the spread of Greek contagion. Europe must think fiscal not federal.
However, it will still be up to the credit agencies to decide on what happened yesterday evening. The markets have reacted well but the key will be where the credit agencies see the euro now. Over the coming days we will see whether a full scale Euro crisis has been avoided. However, there has been a transfer of risk from the private sector to governments. There is no guarantee that Greece will improve, there is no guarantee that Greece will ever be able to stand on its own two feet. The credit agencies have taken a massive hot on the first bail out, losing a reported 17bn out of the £50bn rescue package. If Greece defaults again in 2014, it will be British tax payer who will be on the hook.