Joe Hart has had a season for Manchester City that has left many crediting him with being the key reason for their last-gasp title win over Manchester United. And now he needs to repeat the same feat for England.
17 clean sheets in 38 appearances for City show just how strong he is behind some of the world's best defenders, and with Joleon Lescott and James Milner both joining Hart from the northern club for their country, he will no doubt be in the best position to help keep England in top form as they face France tonight.
Coming up against teammate Samir Nasri could also work in Hart's favour, with the 25 year old well aware of his tactics over the last season.
In the 2010 World Cup, England were particularly disappointing, and after Robert Green's lethal mistake against USA, the side barely scraped through to the round of 16 where they had to face a rampant Germany.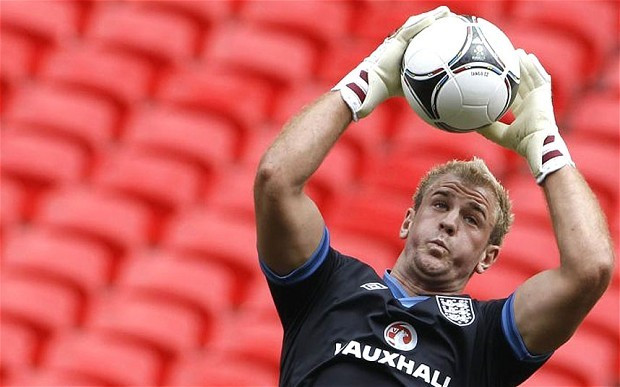 This time around, Hart has the chance to show that England can boast a keeper who has a handle on the high pressure that comes with big tournaments, and should he keep up his stats he'll be able to do some serious boasting at the end of the group stages.
In six appearances for England over the last season, the keeper has kept a clean sheet four times, according to Castrol Edge Performance Data. His ratio of 99 minutes in between goals scored is only slightly less than the 118 minutes he holds with City, and if this continues then it will be more than a game before the stopper comes close to conceding.
His 97 saves for City and eight for England have put him in good practice for when the going gets tough with France tonight, and the Ukraine and Sweden beyond that.
While the pressure is resting heavily on many of the senior England players' shoulders, Hart is showing wisdom beyond his years as a keeper and could well be the stable player the side need to maintain three clean sheets in the group stages as they look to prove lowered expectations to be incorrect.