Euro jumps after Mario Draghi says ECB has begun discussions on unwinding QE programme
ECB President says euro must be monitored as it could prove to be a drag on inflation.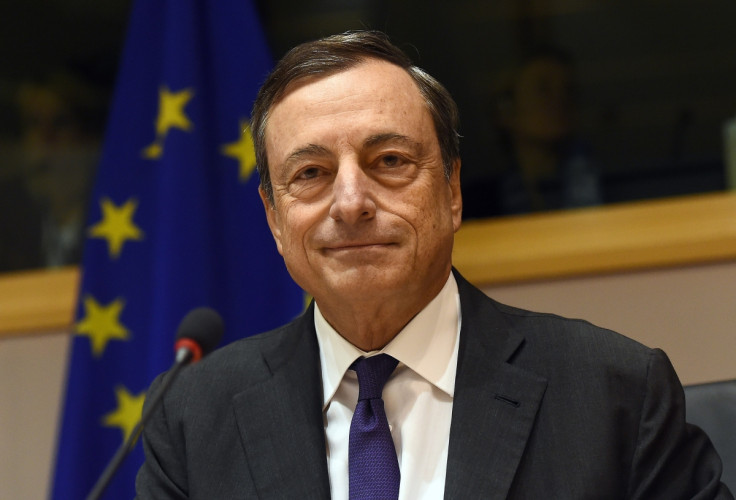 The euro surged on Thursday (7 September), after European Central Bank (ECB) president Mario Draghi revealed plans to unwind the quantitative easing programme (QE) which will be discussed next month.
The common currency had briefly fallen after Draghi said the currency exchange rate was a "source of instability", which required monitoring due to the potential impact on the Eurozone economy, but quickly reversed the trend as investors brushed off the ECB president's cautious comments.
Shortly after 2pm BST, the euro was 1.12% and 0.67% higher against the dollar and the pound respectively, trading at $1.2050 and 0.9198p.
In his press conference, Draghi said "very, very preliminary" discussions over bringing the stimulus programme to an end had already begun, adding a more detailed plan will be formulated in October.
However, the ECB president also warned that the euro's volatility had to be monitored as it could prove to be a drag on inflation. While the currency's exchange rate was "not a policy target", it remained "very important for growth and inflation."
Meanwhile, Draghi also confirmed the ECB had raised its forecast for economic growth. Europe's central bank now expects the Eurozone economy to grow 2.2% this year, compared with a forecast for 1.9% growth it released in June. Expectations for economic expansion in over the next two years were left unchanged, to 1.8% and 1.9% in 2018 and 2019 respectively.
Earlier, the ECB announced it will continue to make purchases under the asset purchase programme (APP) at the current monthly purchase pace of €60bn (£53.5bn, $69.3bn), adding it will also keep interest rates unchanged at zero in line with market expectation.
The bank added the APP will run until the end of December 2017, or until policymakers see a sustained adjustment in the path of inflation consistent with its inflation aim.
"If the outlook becomes less favourable, or if financial conditions become inconsistent with further progress towards a sustained adjustment in the path of inflation, the Governing Council stands ready to increase the programme in terms of size and or duration," Europe's central bank said in a statement.
The decision was in line with what the overwhelming majority of economists expected.
"If new plans were going to be announced today, experience suggests that the Bank would have published the details - or at least a firm indication of what was to come - in the statement," said Jennifer McKeown, chief European economist at Capital Economics.
"While the ECB had previously been expected to unveil tapering plans at this meeting, expectations that the euro's rise had cemented the case to hold off appear to have been correct."
© Copyright IBTimes 2023. All rights reserved.