Euro 2012 Quarter Final: Four Star Germany Hammer Sorry Greece
Goals from Philip Lahm, Sami Khedira, Miroslav Klose and Marco Reus led Joachim Low's Germany past Fernando Santos' Greece and into the semi finals of the 2012 European Championships
Italy and England (as well as France and Spain) should be very worried. The relative ease and ruthlessness with which the Germans sliced their way past Greece in the second quarter final of the 2012 European Championships bodes well for fans of Die Mannschaft but no one else.
Goal from Philip Lahm (Bayern Munich), Sami Khedira (Real Madrid), Miroslav Klose (Lazio) and Marco Reus (Borussia Dortmund) were more than Fernando Santos' side could handle. The two strikes they did manage - a goal from Georigios Samaras (Celtic) and an extremely fortunate, though pointless, 90th minute penalty converted by Dimitris Salpingidis (PAOK) were both nowhere near enough and were the result of a very occasional and very infrequent foray over the halfway line.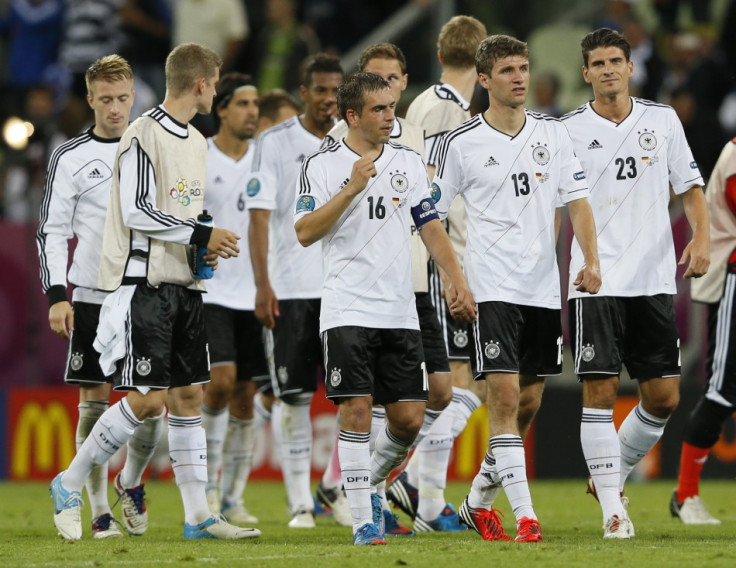 How Germany Lined Up
German coach Joachim Low sprang a couple of surprises at the start, benching Mario Gomez (Bayern Munich) - the tournament's leading goal scorer - for veteran striker Klose, as also leaving Thomas Muller (Bayern Munich) and Lukas Podolski (Arsenal) out. In came youngsters Reus and André Schürrle (Bayer Leverkusen). The rest of the squad was the same as it has been this tournament, with Mesut Ozil (Real Madrid) the creative fulcrum, Khedira and Bastian Schweinsteiger (Bayern Munich) in midfield and Lahm, Mats Hummels (Borussia Dortmund), Holger Badstuber (Bayern Munich) and the back from suspension Jerome Boateng (Bayern Munich) lining up in front of Manuel Neuer (Bayern Munich) in goal.
How Greece Lined Up
The enforced change to the team from the group stages was the absence of captain Giorgos Karagounis (Panathinaikos) through suspension. In addition, goal keeper Kostas Chalkias (PAOK) and defender José Holebas (Olympiacos) were also unavailable. This meant Michail Sifakis (Aris) continued in goal, with Giorgios Tzavellas (Frankfurt), Kyriakos Papadopoulos (Schalke), Vasilis Torosidis (Olympiacos) and Sokratis Papastathopoulos (Werder Bremen) in defence. Giannis Maniatis (Olympiacos), Grigoris Makos (Athens), Samaras, Sotiris Ninis (Parma) and Kostas Katsouranis (Panathinaikos) providing support for Salpingidis up front.
The Game
Greece were always going to defend deep, hope for one or two counterattacks and a few shots on goal. That is the style they are most comfortable with and the one that won them the 2004 European Championships. Germany, on the other hand, had the players and the resolve (and were left with no other option) than to go out and attack from the start... and attack they did.
Greece had only two shots on goal in the first half, compared to Germany's 15 and nearly 70 percent of the possession. Ozil, Schürrle, Reus and Klose were opening up the Greece back line almost at will and only a combination of good goal keeping and poor finishing kept scores level.
Low's side started strongly, with Klose scrambling to reach a low cross to the far post, from Reus, after just three minutes. The Lazio striker just failed to make contact. A minute later Germany thought they had scored, after Schürrle turned in a rebound from Khedira. Unfortunately the Leverkusen player was ruled offside, although replays suggested otherwise. In any case, the Germans continued to press forward. They did have to be careful though, Samaras and Salpingidis proved they could be a threat on the counter. Both players had early breakaways and the latter in particular almost latched on to a fine aerial through ball from the midfield, only to have Neuer play sweeper keeper and clean it up.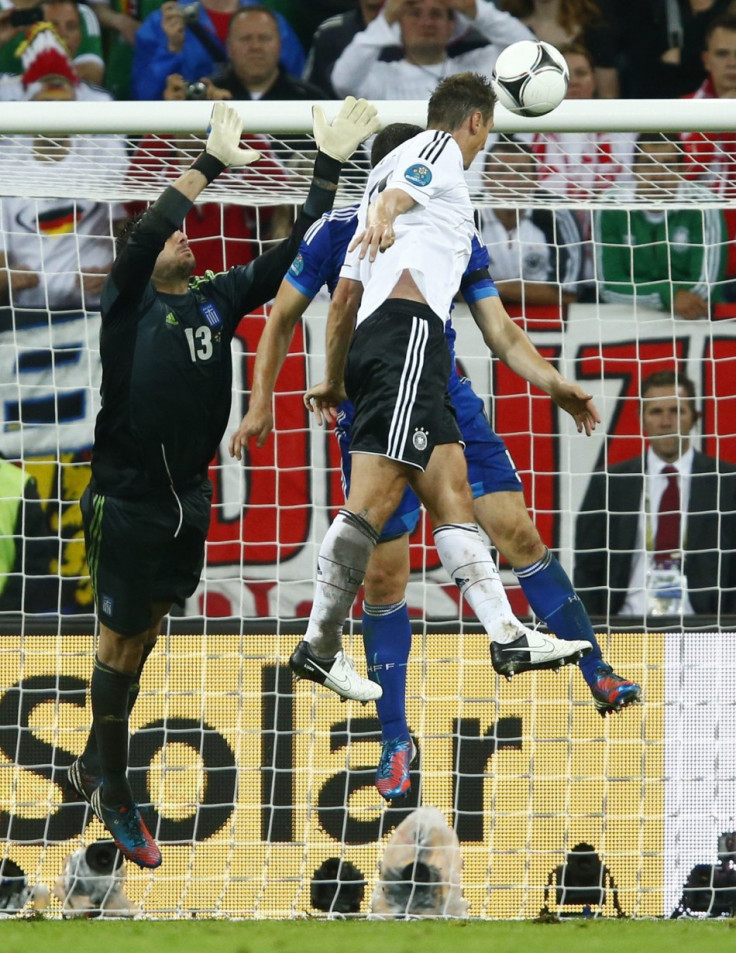 The Grecian defence was absolutely woeful in the opening half and it showed, particularly down the flanks, where Schürrle, Boateng and Ozil enjoyed far too much space and time and with someone like Klose in the box that is always dangerous.
However, despite the possession and chances, Greece hung on to a 0 - 0 score line, as much by grit, good goal keeping and slowly improving their defences as by luck. Ozil should have made it 1 - 0, though, in the 23rd minute. A sweeping move down the left flank found Reus, who played in Klose who, in turn, found the Real Madrid man unmarked from no more than seven or eight yards out. Unfortunately the shot was straight at Sifakis. Youngster Reus then exploded with three shots in three minutes and the signs were clear... Germany were slowly turning the screws.
The deadlock was finally broken in the 39th minute, when left back Lahm cut inside on to his right foot and fired the ball into the net from more than 20 yards out, a replica of the goal he scored in the 2006 World Cup against Costa Rica.
It remained 1-0 till half time.
The second half began with Santos being forced into two attacking changes. Giorgios Fotakis (Kilmarnock) and Nikos Liberopoulos (Frankfurt) came on Makos and Ninis.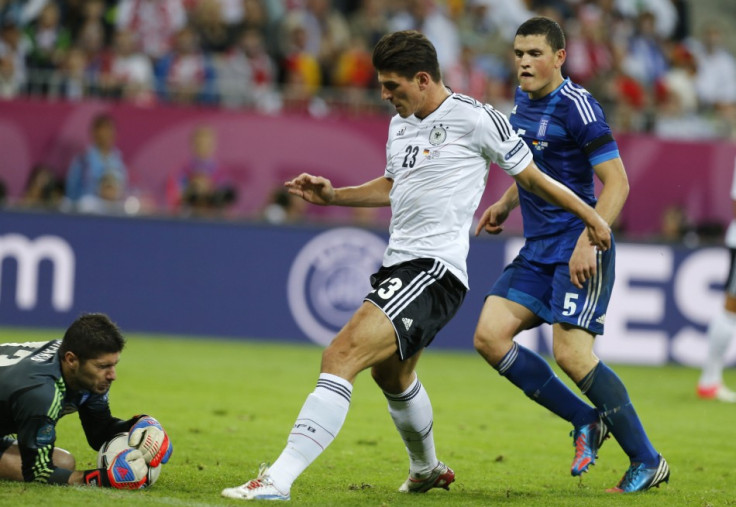 It didn't seem to make much difference, though. Ozil was once more in action and the playmaker nearly fed Klose through mere seconds after the re-start. Klose and Schürrle had shots on goal in the opening five minutes but the second goal of the game was not to be Germany's.
Greece had briefly threatened on the counter in the first half. This time they made Germany pay. Salpingidis ran his heart out down the left flank, leaving Lahm trailing in his wake. Worse still both Hummels and Badstuber arrived late at the centre of the defence, which meant right back Boateng had to track Samaras' run from midfield and he failed to do so. The low cross was bundled past an annoyed Neuer and against all expectations and the statistics, Greece were level; it was 1-1.
The equaliser didn't last long though. The goal was clearly a sign for the Germans to stop fooling about and finish the game. They responded with three goals in 13 minutes - Khedira's thumping half-volley after a perfectly timed late run into the box, a trademark Klose header from a corner and the ball smacked into an open net by Reus after Sifakis spilt Klose's shot.
Low rung the changes after the fourth goal, pulling Klose and Reus for Gomez and Mario Götze (Borussia Dortmund); he'd already brought Muller on for Schürrle earlier.
Germany then showed they too could handle the tiki-taka passing game of Barcelona and Spain as they proceeded to retain possession, sometimes with almost ridiculous ease, as they wound down the clock. The only noteworthy action in the final 15 minutes was the award of a rather harshly given penalty to Greece, in the final minute, for a handball by Boateng. In truth, the right back could do little about the ball hitting his arm and neither the foul nor the penalty could have saved Greece but Slovenian referee Damir Skomina felt otherwise and Salpingidis made it 4-2.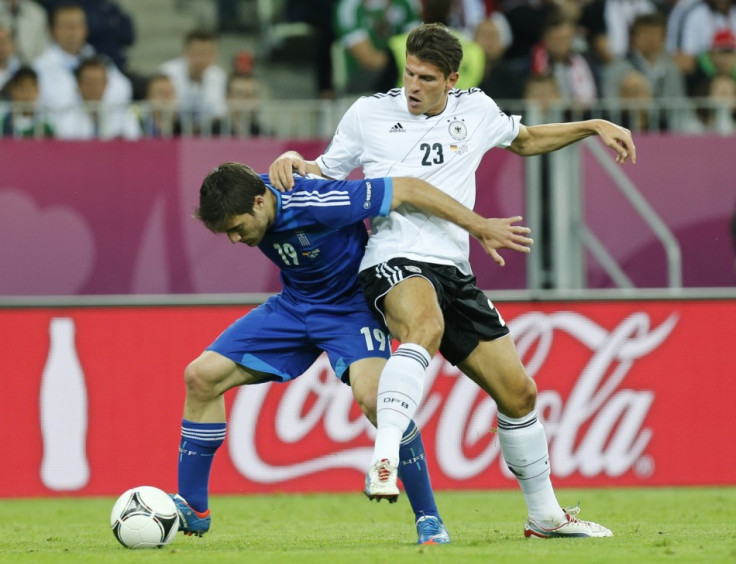 The Semi Final:
Germany now await the results of Sunday's game between England and Italy to learn of their semi final opponent, while Saturday's tasty clash between defending champions Spain and France (read the full IBTimes UK preview here) will provide Portugal their opponent in the second semi final.
Either way, Germany's comprehensive performance at the PGE Arena is something that would have pleased Low and alerted Roy Hodgson and Cesare Prandelli. Both coaches will have taken particular note of the Germans' strength in depth - they scored four time against one of the most defensively resilient sides in Europe, without leading goal scorer Gomez and traditional first team attackers Muller and Podolski. Reus and Schürrle's performances were good and Ozil, as ever, sublime. The only negative Low will have noted from the game was Schweinsteiger's below par performance but the Bayern Munich man is nothing if not a determined competitor and neither England nor Italy should expect an easy ride from him.
© Copyright IBTimes 2023. All rights reserved.