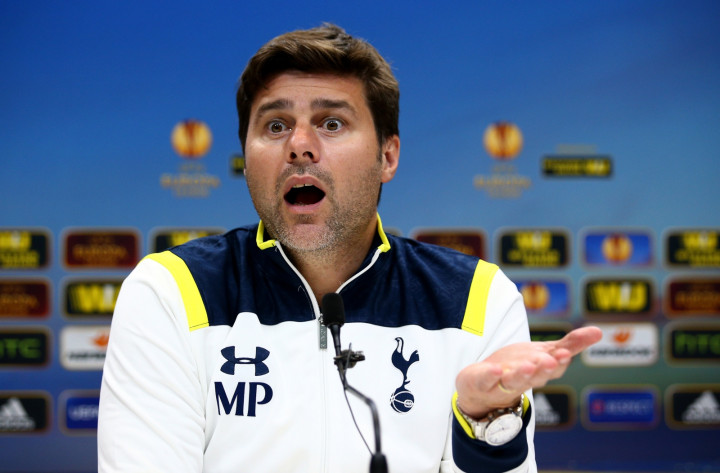 10:00: That's it! A moment of madness from Vlad Chiriches gave Demba Ba the opportunity to pull level with minutes of normal time remaining and the former Chelsea man didn't pass it up. A draw is probably a fair result all things considered, but Mauricio Pochettino will not be pleased with what was a terrible moment for his Romanian defender.
Celtic meanwhile have held onto the 1-0 lead they took in the opening minutes at Parkhead.
FULL TIME
Tottenham 1-1 Besiktas
Celtic 1-0 Dinamo Zagreb
9:56: Ba receives the ball on the edge of the box but can only get a weak effort on goal away that Llories collects. Three minutes of injury time to go.
9:54: Ba calmly slots into the bottom right corner. A deserved equaliser, all things considered.
Goal! Tottenham 1-1 Besiktas (Demba Ba, 89)
9:51: Dreadful from Vlad Chiriches. The Romanian takes a swing at a long ball that has dropped over his shoulder in an attempt to clear it but lets it run under his leg. Already beaten, he swings out a hand at the ball to try and get it away from Pektemek and is rightfully penalised.
PENALTY - Besiktas
9:46: Emmanuel Adebayor is on, replacing Roberto Soldado.
9:45: Pektemek whips an inviting ball in from the left that has Fazio stranded but luckily for him, the drops inches away from Ba's outstretched boot.
9:41: Another great save from Lloris! A brilliant ball is swung in from the right for Ba who brings the ball under control with an excellent first touch. He strikes for goal but Lloris is out quickly and palms it over the bar. Ba, who had the entire goal to aim for, will feel he should have done better. The resulting corner is swung in but it comes to nothing.
9:39: Pektemek, on for the impressive Sahan, has the chance to equalise with his first touch as he meets a corner with a towering header, but gets too much on it and sends it over the bar.
9:35: Kane denied a second! Dembele starts the move with a fine interception, allowing Bentaleb to bring the ball forward. He waits for support from Lennon and Davies and the duo cleverly work the ball in field from the left. It falls invitingly for Kane on the edge of the area but his powerful effort is kept out by Zengin.
9:33: Worth mentioning, Aaron Lennon came onto replace Paulinho - who has been useless this evening - a few moments ago while Mousa Dembele has come on for Stambouli.
9:31: Sahan so close with a sublime effort! He meets Ba's inswinging cross from the right with a spectacular bicycle kick inside the six yard box that whistles past Lloris' far post.
9:28: Motta picks up the ball out on the right and swings another decent cross in towards Ba that Lloris manages to punch away. Hutchinson picks up the loose ball but takes too long trying to take a shot on and is dispossessed.
9:24: Much better from Soldado who glides past his man towards goal before finding Bentaleb with a neat pass. The midfielder moves the ball onto his left and drives a decent effort across the face of goal that drifts just wide of the far post.
9:20: Good save from Lloris! Ba once again easily glides past Chriches, knocking the ball through the Romanian's legs as he cuts inside from the right. He slides the ball across to Sahan on the edge of the area but his shot is palmed over by the Frenchman in goal.
9:17: Stambouli and Townsend work the ball neatly just outside the area with a clever flick from the Frenchman teeing up the winger for a shot. On the edge of the area Townsend swings a left-footed effort towards goal but it flies over the bar.
9:15: There's hold up in the corner as the referee has a word with Fazio and Ba over a spot of shoving in the box. After The message doesn't seem to get through to the Argentine however, who carries on pushing and is shown a yellow card. The corner eventually comes in after all that, it's rubbish, and Spurs clear.
9:12: Atiba Hutchinson threatens to drive at the heart of the Spurs defence but had his ankle clipped by Bentaleb who enters the referee's book. Luckily for Spurs the resulting free kick is down right awful. Besiktas win the back back however with Ba pulling out wide to the left where he clips a delicate ball into the box. Fazio gets the last touch and it's a corner.
9:08: And we are back underway for the second half.
HALF TIME
Tottenham 1-0 Besiktas
Celtic 1-0 Dinamo Zagreb
8:49: From out of nowhere Roberto Soldado whips a brilliant cross in from the right that causes havoc amongst the Besiktas backline. Paulinho stretches to clip it past the goalkeeper but it just evades him.
8:44: Townsend, having switched over to the right, cuts inside before slipping a neat ball through to Kane whose made an excellent run. The Spurs forward fires on goal from a tight angle despite having options in the middle but Zengin is equal to it.
8:42: Celtic really should be two ahead. Dinamo Zagreb's goalkeeper Eduardo makes an awful mess of his attempt to pass the ball upfield, finding Kris Commons instead. He can shoot from a difficult angle or play the ball across goal for a teammate. In the end he takes too long befor opting for the latter but Zagreb clear.
8:39: Besiktas should be level! Sosa is picked out brilliantly down the right and he drives a ball across goal that is just begging to be tapped into the back of the net. Ba misses it by inches but Sahan is behind him to clip it goalwards but Lloris somehow manages to knock it away. Besiktas have the corner but it is wasted.
8:36: Big let off for Celtic as Dinamo Zagreb hit the bar through a vicious long range effort from Wilson Eduardo
8:33: Lovely goal from Kane! Townsend plays the ball infield to Bentaleb who neatly turns on the spot before finding Kane ahead of him. From about 20 yards out he cuts across to the left of his marker and drives a superb low effort into the bottom corner of the net!
Goal! Tottenham 1-0 Besiktas (Harry Kane, 26)
8:28: Tore gives Davies the slip down the right and cuts inside at pace, moving the ball onto his left foot, but he fails to test Llories with a poor shot wide.
8:26: Spurs switch sides through Harry Kane and try to work the ball down the right channel but a heavy touch from Dier sees a Besiktas defender cannon the ball into the Spurs defender to win a goal kick. The away side surge forward through Ba who beats Chiriches far too easily before slipping the ball wide to Sahan. Ba continues his run into the box to try and meet the cross but Lloris claims.
8:22: Tottenham show signs of life for the first time in this match. Ben Davies presses dilligently and wins the ball back and plays a neat one two with Kane to break into space down the inside left channel but his weak cross is easily cleared.
8:20: Ba hits the bar! Fazio fails to deal with a fairly simple cross into the box from the left, letting the ball slip under his foot. That throws Chiriches off too, who can't get to the loose ball before Ba who rattles the cross bar with a decent effort.
8:17: Ben Davies and Townsend both gravitate to the same man, allowing Tore to race into acres of space down the inside right channel. He pings a ball into the box but it's a poor delivery that finds no one in particular and Tottenham clear.
8:15: Ben Davies crashes into Sosa with a crunching challenge and joins Ba in the referee's book. Two yellows in the opening eight minutes.
8:13: What a start for Celtic! Commons caps a fine flowing move, playing a neat one two with Anthony Stokes before emphatically sliding a shot into the back of the net.
Goal! Celtic 1-0 Dinamo Zagreb (Kris Commons)
8:11: Demba Ba has been shown an early yellow card after an aerial challenge with Chiriches. The referee accuses him of leading with his elbow, which seems a bit harsh.
8:08: Sahan inches away from giving Besiktas the lead! Chiriches gives the ball away on the edge of his own area allowing Sachan to pounce. He plays the ball into Ba on the edge of the D who lays it back off to his teammate but his effort on goal flies just wide of Lloris' post.
8:05: And Tottenham get us underway at White Hart Lane.
7:58: Mauricio Pochettino has rang in the changes for this evening but he has plenty in reserve should things got awry. Erik Lamela, Emmanuel Adebayor and Aaron Lennon are on the bench this evening, but the manager will be wary of using them with a difficult game against former club Southampton waiting for them on Sunday.
7:50: And the Besiktas team for tonight.
Beşiktaş: Zengin, Kurtulus, Sivok, Franco, Ramon, Sosa, Tore, Kavlak, Hutchinson, Ba, Sahan
Subs: Gonen, Koybasi, Pektemek, Ozyakup, Uysal, Koyunlu, Gulum.
LINE UPS
Celtic: Gordon, Ambrose, Denayer, van Dijk, Izaguirre; Brown, Johansen, Tonev, Commons, Wakaso; Stokes
Subs: Zaluska, Kayal, Griffiths, Berget, Henderson, O'Connell, Fisher
Tottenham: Lloris, Dier, Chiriches, Fazio, Davies, Bentaleb, Stambouli; Kane, Paulinho, Townsend, Soldado
Subs: Vorm, Kaboul, Naughton, Dembele, Lamela, Lennon, Adebayor
TEAM NEWS – Tottenham: Mauricio Pochettino has made 10 changes from the side that drew 1-1 with Arsenal at the weekend with Hugo Lloris the only man to keep his spot. Roberto Soldado leads the arrack ahead of Harry Kane, Andros Townsend and Paulinho.
TEAM NEWS – Celtic: John Guidetti is ineligible tonight but Kris Commons has recovered from a muscle injury to return to the starting XI. Jason Denayer, after being included in Marc Wilmots' Belgium squad this morning returns at centre back.
7:35: We are coming to the end of our 18:00 (BST) kick offs. Dynamo Kiev have a comfortable 2-0 lead over Steaua Bucharest while Fiorentina are cruising towards three points, leading 3-0 against Dinamo Minsk. Tottenham and Celtic get underway in just over 20 minutes.
6:50: Everton have secured an unlikely point away in Russia thanks to Samuel Eto'o's late equaliser. Roberto Martinez's side were firmly on the backfoot for most of this contest but hung on the claim a point that leaves them with four points from their opening two games. Not bad going.
FULL TIME
FK Krasnodar 1-1 Everton
6:45: Everton are now the team in control, pushing for a winner that looked so unlikely just 10 minutes ago. We are entering the final minutes of the 90.
6:41: Before that goal Everton hadn't even created a real chance on goal for themselves.
6:40: Everton equalise! Eto'o picks up the ball on the edge of the D and spreads the ball wide to Baines. The veteran striker continues his run into the box and gets between the two defenders to guide Baines' cross into the back of the net.
Goal! FK Krasnodar 1-1 Everton (Samuel Eto'o, 82)
6:35: Lukaku slips the ball underneath Sigurdsson but the Krasnodar defender appears to sweep the ball out of the Everton striker's path with his hand. Martinez is livid on the sideline when the referee plays on.

6:31: Gibson takes an Everton corner that is flicked on dangerously but no one can get on the end of it. Osman chases the loose ball down and keeps the pressure and wins a free kick for his side. Baines swings it in, but it's cleared.
6:26: Laporde repeats Wanderson's trick, running through the Everton back line virtually unchallenged. He is eventually dispossessed but Ahmedov picks up the pieces and forces the corner.
6:23: Wanderson comes on for Izmailov and hits the bar almost immediately! The Brazilian dances into the box past Osman before shifting the ball onto his right foot to shoot. Stones gets in front of him to block but the Krasnodar man still manages to clip an effort on goal only for it to bounce back off the woodwork.

6:20: Howard comes out claim and calms the situation, albeit for a few minutes.
6:18: Everton are doing their very best to concede a second here it seems. Jagielka gives the ball away allowing Ahmedov to take a shot on goal. It's blocked and falls to Eto'o who can't clear either and the home side win a corner via another deflected shot.
6:15: Krasnodar still in control here. Ahmedov slips in between McGeady and Hibbert who were both drawn towards the ball but his cross is cleared for a corner, which Howard collects.
6:12: Not much improvement in this second half for Everton. Samuel Eto'o has dropped into a deeper position to accommodate Lukaku with Osman often pulling into a wider position on the left ahead of Baines. Those changes haven't brought any rhythm to Martinez's side however.
6:10: Baines, out on the left wing, plays a ball inside to Lukaku who lays a first time ball off for Osman who has emerged on the inside left channel but is ruled offside.
6:03: One change to bring to you, Romelu Lukaku has come on to replace Christian Atsu. The home side pick up where the left off from, forcing the issue with a couple of early corners but they come to nothing.
6:01: And Krasnodar get us abck underway for the second half.
HALF TIME
FK Krasnodar 1-0 Everton
5:46: The last action of the half sees Howard have to scamper out of his box to head away a hopeful long ball. The whistle blows and Gibson thumps the ball into the air in frustration.
5:45: Jagielka appeared to be struggling with a knock as Krasnodar tried to mount an attack for a quick-fire second but the attack breaks down. One minute of injury time added on.
5:42: Krasnodar lead! Ahmedov dinks a ball into the danger zone from the right that slips in between Jagielka and Stones. The former swings a foot at it to try and clear but all he managed to do was guide it into Ari's path for him to slam the ball past Howard.
Goal! FK Krasnodar 1-0 Everton (Ari, 42)
5:40: Tony Hibbert is given a talking to after a crunching challenge on Laborde. Harsh, it seemed a fair challenge. The resulting free kick is wasted, anyway.
5:36: Atsu scampers into space down left in acres of space and looks up for the pass but his teammates are still catching up with him. His ball across is a poor one that falls behind Leon Osman and Eto'o is unable to get a clean strike on the ball. If comes back to Atsu, but he's ruled offsie just as he fires a wild effort horribly wide.
5:32: Atsu is robbed of possession by the ever-lively Ari. He jinks inside but his shot takes a deflection and goes wide. A corner is awarded but it's pretty rubbish and cleared.
5:28: An Everton free kick into the box bypasses everyone but McGeady picks up the pieces and lifts a decent cross into Stones, whose towering header flies just wide of the post with Dykan rooted to the spot.
5:25: John Stones is up to connect with McGeady's corner but Dykan collects and collides into the Everton youngster. Absolutely nothing in that at all, both players fairly contested the ball but a few of the home players are slightly riled with the young Evertonian.
5:23: Aiden McGeady picks up the ball out on the left and sprints infield across a cluster of Krasnodar defenders before firing a low effort on goal that draws a decent save out of Dykan. Everton corner.
5:21: Jedrzejczyk this time tests Howard, trying an effort aimed towards the bottom right corner that looked to be going wide, but the American palms it away for a corner which comes to nothing.
5:20: Ari again looks dangerous as he slips in behind Jagielka in from the right but a heavy touch takes the ball away from the forward and Everton have the goal kick.
5:18: Good save from Howard! Ari plays a ball infield to find Izmailov on the edge of the D but Howard gets a strong hand to the effort and bats it away.
5:16: John Stones falls asleep out on the right allowing Laborde to slip in behind him and cut in from the wing heading towards the box. The young defender makes an excellent recovering challenge on the edge of the box however and clears the danger.
5:14: Everton get their first chance to break as McGeady scurries into space down the left but his delivery is poor.
5:12: Everton get the ball away from the resulting corner but not for long. Laporde again finds space and flashes a ball across goal. Ari is inches away from making contact.
5:10: Ari is pulling all the strings for the home side at the moment. He receives the ball inside the area and neatly flicks the ball out to Izmailov. He's quickly surrounded however and opts for the return pass to Ari who lays the ball of to Ahmedov whose goalbound shot is cleared by Hibbert/. Corner.
5:08: Ari and Laborde again combine neatly down the right with the Laborde this time opting to fire a shot across goal, but it never really troubles Howard and goes wide. Goof start from Krasnodar however, Everton haven't really made it out of their half yet.
5:05: Bright start from the home side as Ari slides a neat through ball through to Laborde whose emerged on the inside right flank but his ball into the six yard area is Izmailov is just behind him and he cannot get the right connection on the ball and clips it over.
5:02: Pereyra lets fly with an early effort from distance that doesn't trouble Howard.
5:00: 2000 miles from Goodison Park, Everton get us underway.
4:55: Aiden McGeady returns to Russia tonight after his three year stint at Spartak Moscow. The Republic of Ireland international enjoyed a relatively successful stint at the club until it ended in rather acrimonious circumstances in January, but the winger looks back on his spell in Moscow with pride.
I was 24 when I left Celtic to come here and I don't regret it at all. I think it's good for British and Irish players to go away sometimes and experience new things."
4:53: Krasnodar line up as follows:
Dykan, Jedrzejczyk, Sigurdsson, Granqvist, Kaleshin; Gazinski; Izmailov, Ahmedov, Pereyra, Laborde; Ari
Subs: Sinitsin, Martynovich, Mamaev, Adzhindzhal, Petrov, Wanderson, Burmistrov.
4:50: Here's that Everton team in full:
TEAM NEWS: Roberto Martinez makes five changes to the side that drew with Liverpool on Saturday but he's still opted for a strong starting XI. Darron Gibson, Christian Atsu, Leon Osman and Aiden McGeady start with Samuel Eto'o leading the line.
4:46: Dinamo Moscow v PSV Eindhoven is currently goalless in Thursday's early game. Most of this evening's games are split between 18:00 and 20:05 (GMT) kick off times with Fioretina, Villarreal and holders Sevilla also in action this evening.
4:43: Everton kick off in about 15 minutes in the evening's early kick off. At 20:05 (GMT) Tottenham and Celtic are in action against Besiktas and Dinamo Zagreb respectively.
4:40: Everton find themselves in eastern Russia this evening as they continue their Europa League campaign against FK Krasnodar. Roberto Martinez's side sauntered to a 4-1 victory over Wolfsburg in their opening group game but have been made to play for their excursions in the Premier League. Will the Toffees boss opt for a different approach this evening with Manchester United looming on Sunday?