The World Health Organisation has warned that Europe is currently experiencing a widespread measles outbreak. Over 500 cases were reported for the month of January 2017 alone.
This situation threatens all the progresses made to date towards the elimination of the disease in the region. The spread of measles is expected to continue, and could cause large outbreaks wherever immunisation coverage has dropped below the necessary threshold of 95% of the population. The data available so far for February indicates that the number of cases is still rising.
"With steady progress towards elimination over the past two years, it is of particular concern that measles cases are climbing in Europe," says Dr Zsuzsanna Jakab, WHO Regional Director for Europe.
"Today's travel patterns put no person or country beyond the reach of the measles virus. Outbreaks will continue in Europe, as elsewhere, until every country reaches the level of immunization needed to fully protect their populations."
Here's all you need to know about this recent epidemic, and how it can be contained.
What is measles?
Measles is a highly infectious viral illness which can have serious complications if it is not identified and treated early. It is caused by the measles virus, which is passed on through contact with the tiny droplets expelled from the nose and mouth of infected patients, when they cough or sneeze.
What are the symptoms of measles?
The symptoms of the disease begin to appear around 10 days after infection. They can include cold-like symptoms (runny nose and cough, sore, red eyes, fever and small white spots on the inside of the cheeks. Later on in the infection, a distinctive red-brown blotchy rash appears. It tends to be observed first on the head or upper neck, before spreading outwards to the rest of the body.
Is measles dangerous?
In most cases, measles is not life-threatening, even though the symptoms can be unpleasant. People usually feel better after a week, and their bodies build resistance to the virus, which means they are unlikely to become sick again in the future.
In a few cases, the disease can nevertheless cause more severe complications including pneumonia and brain infection (encephalitis). About 1 in 5,000 infected people die of measles.
People who are the most at risk include babies under the age of one, children with a poor diet or another serious disease weakening their immune system, such as those with leukaemia, and teenagers and adults.
Healthy children aged more than one are the least at risk.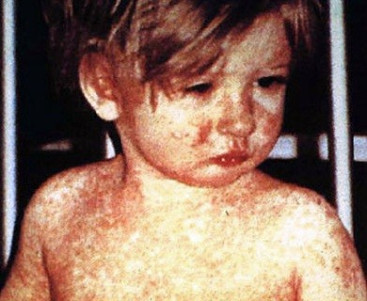 How can I protect myself?
The best protection against measles is vaccination. The measles, mumps and rubella (MMR) vaccine has been highly effective at fighting off infections and preventing the spread of the disease. In the UK, it is estimated that measles is now uncommon as a result of vaccination.
For people who don't want to be vaccinated, another treatment option available in the UK: it is called human normal immunoglobulin (HNIG) and can be used in people at immediate risk of catching measles.
Which countries are at higher risk in Europe?
The largest current measles outbreaks in Europe are found in Romania and Italy. Romania has reported over 3,400 cases and 17 deaths since January 2016. The majority of these cases are concentrated in areas where immunisation coverage is particularly low. Italy has reported sharp rise in cases in the first weeks of 2017, with 238 cases reported so far for January 2017. At this rate, the number of cases in the country for 2017 may soon surpass that of 2016 (850 cases).
However, every countries where measles remains endemic and where vaccination coverage does not reach 95% of the population is very much at risk of an outbreak. In Europe, endemic countries are France, Germany, Italy, Poland, Romania, Switzerland and Ukraine.
Are we close to eliminating measles in Europe?
When the 53 members states covered by WHO Europe office agreed to the European Vaccine Action Plan 2015–2020, they told the world they were committed to eliminating measles and rubella.
Progress has been made towards this goal as 37 of the 53 countries have been found to have interrupted endemic measles transmission. But challenges remain, and won't be overcome unless vaccination coverage keeps increasing in the future.