European markets: FTSE crashes to 2012 low after Fed chair Janet Yellen's Congress announcement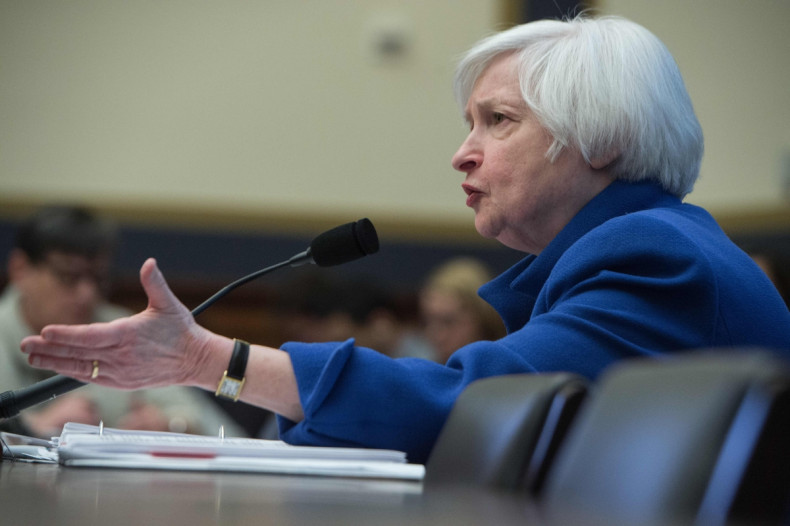 Wednesday 10 February's banking surge has turned around and finance stocks are dragging down the FTSE 100, which reached its lowest point since July 2012 on Thursday (11 February).
The bluechip index and other stock markets in Europe were deep in the red, largely because investors responded negatively to comments made on Wednesday by US Federal Reserve chair Janet Yellen in front of Congress. Yellen "semi-admitted" that the Fed raised interest rates too early in December 2015.
The FTSE was trading at 5,504 points shortly after the opening, its lowest point in almost three years and 2.9% lower than Wednesday's close. Banking stocks across Europe were diving, with the pan-European finance index Stoxx 600 Banks falling 6.1% to its lowest point since August 2012.
In Germany, the DAX fell by 2.3% while France's CAC 40 dropped 3.2%. Troubled Greece saw a 5.2% drop in its Athens Stock Exchange, with banks down 18% on average.
"The negative opening comes after a late sell-off and thus down day for US stocks, in stark contrast to the rebound in Europe, and after Hong Kong's Hang Seng plunged on its return from Chinese New Year holidays," said Michael van Dulken, head of research at Accendo Markets. " Weakness stems from Fed Chair Janet Yellen warning on current financial market turbulence and suggesting further rate hikes could be delayed, which added to already raised anxiety about the health of the global economy to hold back risk sentiment."
Yellen's statement made to US lawmakers signals the Fed may back away from making four gradual interest rate increases in 2016 as it pledged to do in December. "Financial conditions in the US have recently become less supportive of growth," the testimony read. "These developments, if they prove persistent, could weigh on the outlook for economic activity and the labour market."
Concerns about China remain present on the trading floor as well, with the country's economy slowing down. India's economy took over in terms of growth from the Chinese GDP. The Indian economy grew 7.5% in 2015, against 6.9% in China, signalling that the still-huge Chinese economy is not the main emerging market any more.