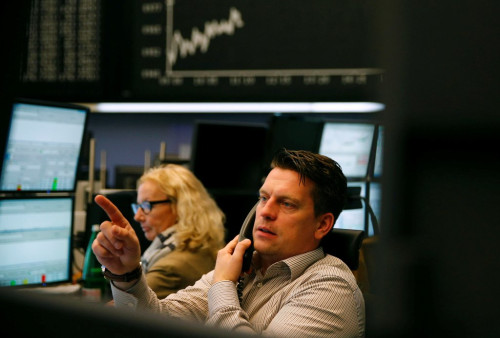 European markets opened higher on 6 February, and climbed higher thereafter, with corporate earnings updates supporting investor sentiment ahead of the release of monetary policy decisions from the Bank of England and the European Central Bank.
The Stoxx Europe 600 index opened 0.5% higher to 319.52.
Britain's FTSE 100 and France's CAC 40 opened 0.4% higher.
Germany's DAX 30 opened 0.6% higher.
Spain's IBEX 35 was trading 0.61% higher after opening higher.
Italy's FTSE MIB was trading 0.77% higher after opening higher.
The Bank of England (BOE) will announce its interest rate decision at 12:00GMT while the European Central Bank will announce its interest rate decision at 12:45GMT.
Commerzbank Corporates & Markets said in a note to clients: "We expect the BoE to focus more notably on the downward risks for inflation in order to justify a continuation of its expansionary monetary policy. The fact that the BoE has recently expressed the view that a lower than previously assumed unemployment rate was compatible with a stable inflation rate could point in this direction."
"If the forward guidance threshold value for the unemployment rate is lowered as a result, as we expect, this is likely to put pressure on Sterling short term. Due to the robust recovery and the positive development of inflation we continue to expect GBP to appreciate regardless of short term exchange rate developments."
Credit Agricole CIB said in a note to clients: "An unchanged policy decision from the BoE will offer little comfort to GBP following its recent falls from its highs around 1.6669 versus USD. GBP has also lost ground against the EUR but this is unlikely to persist. GPB was not helped by the lower than expected PMI manufacturing survey in January although confidence remains at a high level."
"Facing a quicker decline in the unemployment rate than expected the BoE is faced with the risk that their current guidance proves inappropriate and Governor Carney will need to allay concerns over the prospects of higher policy rates by altering its forward guidance soon."
"Manufacturing and industrial production data tomorrow will give further direction, with healthy gains expected to provide some support to GBP. However, given that the policy meeting today is likely to prove to be a non event the Quarterly Inflation Report next week will quickly move into focus," the French bank added.
Nordea Markets said in a note to clients: "At the January ECB meeting, Mr Draghi identified two triggers that could prompt new monetary easing: an unwarranted tightening of the money markets, and a worsening of the medium-term outlook for inflation."
"We believe none of the two triggers have been hit and hence expect no new ECB easing, but the tone of Mr Draghi is likely to remain dovish in the coming months."
In other news, mortgage lender Halifax said British house prices grew at their fastest pace in three months in January. Prices rose 1.1% in January after dropping by 0.5% in December 2013.
In company news, telecom equipment maker Alcatel Lucent's stock was trading 9.32% higher at 9:20GMT in Paris even as the firm posted a net loss of €1.3bn ($1.76bn) in 2013. Instead, traders are betting that chief executive Michel Combes can turn around the company.
Telecoms giant Vodafone's stock was trading 1.71% higher at 09:15GMT in London even after the group said that its third quarter results were dragged down by weak demand in southern European countries and fierce competition in the UK and Germany.
In Asia
India's BSE Sensex was trading 0.09% higher on 6 February.
The Australian ASX finished 1.21% higher. South Korea's Kospi finished 0.88% higher while Hong Kong's Hang Seng ended 0.72% higher.
However, the Japanese Nikkei 225 finished 0.18% lower.
Financial markets in Shanghai remained closed for the Lunar New Year holidays.
Asian investors exercised caution ahead of the release of a crucial US jobs report on 7 February. A weak report could weigh down on investor sentiment, which has already been dented by the turbulence in emerging markets, slowing Chinese economic growth and a reduction in the US Federal Reserve's monetary stimulus.
Societe Generale Cross Asset Research said in a note to clients: "The weekly portfolio capital flow data from Japan for the week ending 31 January 2014 contained two noteworthy developments. One, Japanese investors aggressively sold foreign bonds to the tune of ¥1.8tn, the largest amount since the first week of October (¥2.2tn). This was arguably in reaction to the strong appreciation of the yen which occurred during that week."
"Two, foreign investors turned serious sellers of Japanese stocks, really for the first time in two years: net sales amounted to ¥752bn. This is not a particularly large number when set in context with net purchases of some ¥18tn over the previous 13 months or so, but it is an important reversal of the flow - all the more so since the rally in Japanese stock markets was in large part driven by foreign capital, rather than domestic funds."
Wall Street Down
On Wall Street, indices ended slightly lower on 5 February after upbeat service sector data helped offset modest labour market data.
The Dow finished 5.01 points, or 0.03%, lower at 15,440.23.
The S&P 500 ended 3.56 points, or 0.2%, lower at 1,751.64.
The Nasdaq finished 19.97 points, or 0.5%, lower at 4,011.55.
The Institute for Supply Management said its services index rose to 54 in January from 53 in December. The reading narrowly beat a forecast of 53.7, according to a Reuters poll of economists.
January marked the 49th straight month the index was above 50, the level that divides expansion from contraction. However, the rate of growth has slowed from the more than seven-year high of 57.9 struck in August.
On the jobs front, ADP and Moody's Analytics data showed that private companies created 175,000 new positions in January, slightly lower than expected.