European Space Agency Finds Evidence of Massive Lake on Mars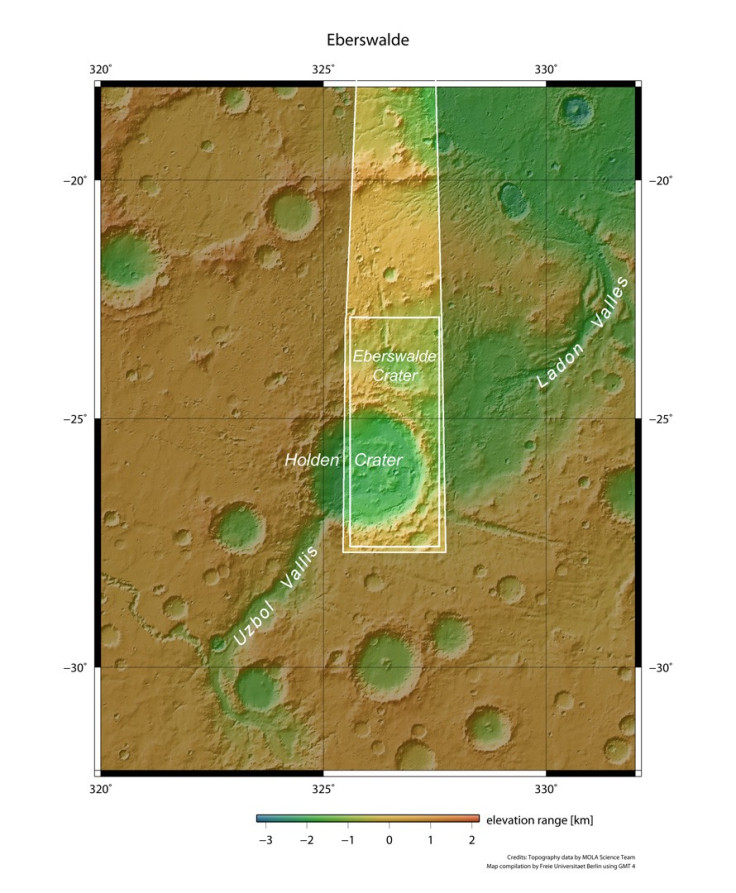 The European Space Agency's Mars Express has captured fresh images of the planet's surface indicating the existence of a massive lake in the red planet's past.
Contained in the Eberswalde crater, the lake's existence was theorised after the Express caught images of a delta on Mars' surface. The delta discovered was a large fan shaped pattern believed to have been formed by deposits within the now dry ancient lake.
The crater believed to have housed the lake is estimated to be around 65 km in diameter, with the accompanying delta spanning 115 square km. The delta is thought to have formed more than 3.7 billion years ago when an asteroid hit Mars.
Despite the fact that the crater is only intact on its right-hand side, ESA has credited the lake's existence as an important discovery. The agency pointed out that the visible section of Eberswalde shows unusually well preserved feeder channels descending from the top of the crater down into the delta, indicating the original source of the lake's water.
"This delta structure, first identified with NASA's Mars Global Surveyor spacecraft, is characteristic of the presence of a lake in the crater at that time. Such features provide a clear indication that liquid water flowed across the surface of Mars in the planet's early history," wrote an ESA representative in the agency's statement.
The recent news isn't the first time the Eberswalde crater has attracted scientific interest. The crater was one of the four possible destinations shortlisted as a potential landing site for NASA's next Mars rover.
The news follows NASA's current rover, the Opportunity's, recent research in Mars' Endeavour crater.
On 2 July, 2011 NASA released its own statement indicating that while examining a rock formation within the crater the Opportunity discovered further evidence suggesting the red planet once contained water.
The data taken by Opportunity reportedly showed that the rock originated from a period in the red planet's history when its surface contained clay minerals. NASA went on to state that such minerals could only form in "wet conditions, possibly more favorable for life."
© Copyright IBTimes 2023. All rights reserved.