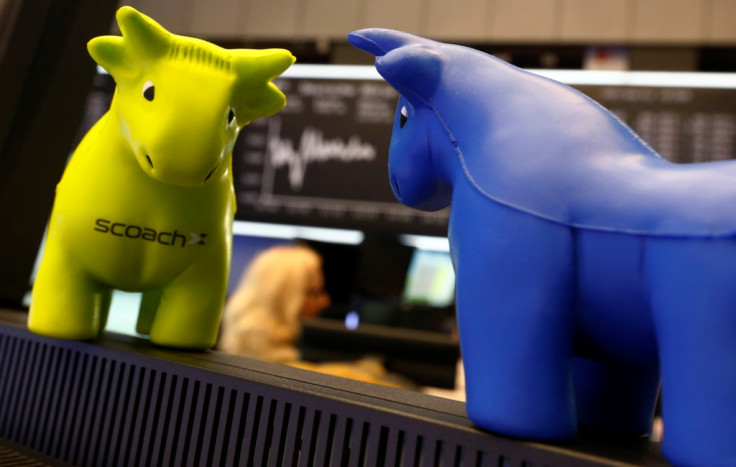 European shares could log their strongest weekly gain in a year this week, buoyed by strong handovers from Asia and from Wall Street.
The benchmark Stoxx Europe 600 was trading 0.16% lower to 338.51 points on 19 December.
The pan-European index was poised for a weekly rise of 3%, which will be its strongest such advance since late December 2013, according to FactSet data.
Elsewhere, Britain's FTSE 100 was trading 0.49% higher.
France's CAC 40 and Germany's DAX 30 were trading 0.27% lower and 0.31% lower respectively.
Spain's IBEX 35 and Italy's FTSE MIB were trading 1.11% and 1.25% lower respectively.
Barclays analysts said in a note: "Risk sentiment is ending the week on a stronger footing after a poor start. Market expectations for ECB QE add to the Fed's upbeat message on US growth and stabilization in Russia."
Earlier in the day, Japan's Nikkei 225 share average finished 2.39% higher at 17,21.40 points after the Bank of Japan ended its last policy meeting of the year by leaving its monetary policy unchanged.
The BoJ has re-committing to a massive stimulus campaign that will see it print yen to buy government bonds. The central bank also offered a positive view of the world's third largest economy.
In China, the benchmark Shanghai Composite finished 1.67% higher at 3,108.60
Australia's S&P ASX finished 2.45% higher at 5,338.60 while India's S&P BSE Sensex ended 0.90% higher at 27,371.84.
On Wall Street, indices finished higher on 18 December as investors cheered comments by the US Federal Reserve, the world's most powerful central bank.
The Fed has said that it will remain "patient" on the timing of increasing US interest rates.
Upbeat data showing jobless claims fell by 6,000 to 289,000 last week, the lowest since early November, also boosted sentiment.