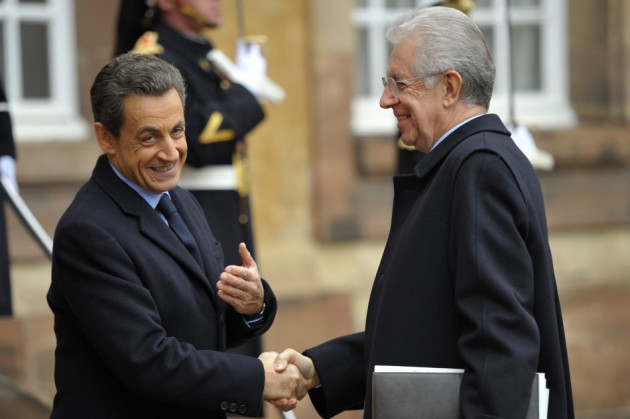 The newly appointed Italian prime minister, Mario Monti, said he will balance the books by 2013.
Meeting the French and German leaders, Nicolas Sarkozy and Angela Merkel respectively, Mr Monti was adamant he would be able to fix the dire economic situation that has engrossed Italy in recent weeks in two years.
Mr Monti said: "The objective of balancing the budget in 2013 is not called into question. Italy must make a particular effort because it has a very high debt."
The three leaders were keen to stress that the way forward was to "do our duties at home" to solve the wider eurozone crisis.
Mr Sarkozy greeted the new Italian leader with a handshake and warm smiles, suggesting at last that there will be a turnaround in fortunes within Europe.
But with Portugal being downgraded by Fitch to "junk" status earlier in the day, and with the Thanksgiving holiday keeping markets closed in the US, the optimism surrounding the meeting was cautious.
On a busy day, the French leader said he would scale back his demands of the ECB to be a lender of last resort, agreeing with Mrs Merkel that this would create long term damage to growth. He said: "All three of us said that with respect for the independence of this institution, one should refrain from positive or negative demands of the ECB"
Ahead of the EU Commission meeting of Dec. 7 in two weeks, the three also spoke in private about proposed changes to the EU treaties to improve the governance of the eurozone, one of the many meetings that Britain can expect to remain excluded from as the single currency countries continue to grow together towards a more central fiscal unit.