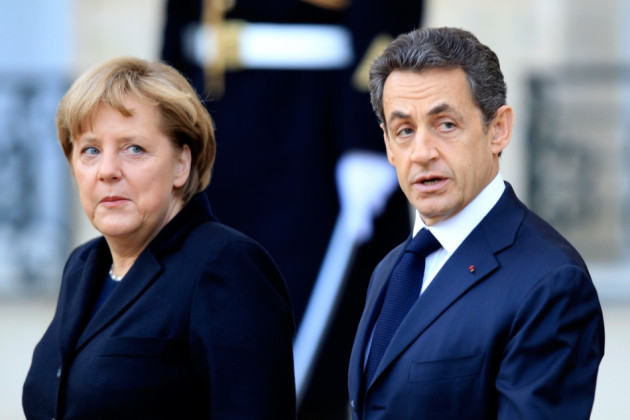 The French President, Nicolas Sarkozy, has acceded to German demands and is now advocating a new treaty to integrate the eurozone member states.
The French leader and German Chancellor, Angela Merkel, were under pressure to overcome their differences on how to solve the eurozone debt crisis.
Mr Sarkozy, who had previously backed the European Central Bank to underwrite government debt for state members, said that "eurobonds were not the solution to the crisis". Speaking alongside his German counterpart, he advocated the new treaty announced by Mrs Merkel last week in what will, effectively, become a new "euro state".
According to the treaty outlined by Mrs Merkel, eurozone leaders will be obligated to meet once a month in an attempt to "trigger and stimulate growth" within the region and to tackle youth unemployment, which is "much too high".
Mr Sarkozy, wary of not relinquishing sovereign powers to any kind of central EU government, was keen to state that "all national governments would still retain their powers", but the European Court of Justice (ECJ) would be empowered to act as a check and balance on national budgets.
"The ECJ would not be checking every national budget, but would be obligated to check the national debt break is enshrined in the constitution," Mrs Merkel said. The court would be authorised to sanction countries that fail to do this.
The new "euro state" will be as close to the United States of Europe model since the EU's creation back in the 1970s.
The British Prime Minister, David Cameron, who is due to attend the EU summit in Brussels at the end of this week, will be highly anxious over the summit's outcome.
Mr Cameron, who is attempting to balance the interests of the country, the interests of the city and appease the Tory right, will now find himself outside of EU fiscal policy making altogether by Friday evening, assuming other eurozone member states advocate the new deal.
Mr Cameron said: "Eurozone leaders are missing what really needs to be done. Of course, there is a fiscal debt crisis, but underlying the problem is one of competitiveness. Whatever we discuss on Thursday and Friday, we also have to deal with that issue."
Tory eurosceptic MP Bill Cash said: "This is, effectively, a treaty within a treaty, which means that Britain will be outside the negotiating table."