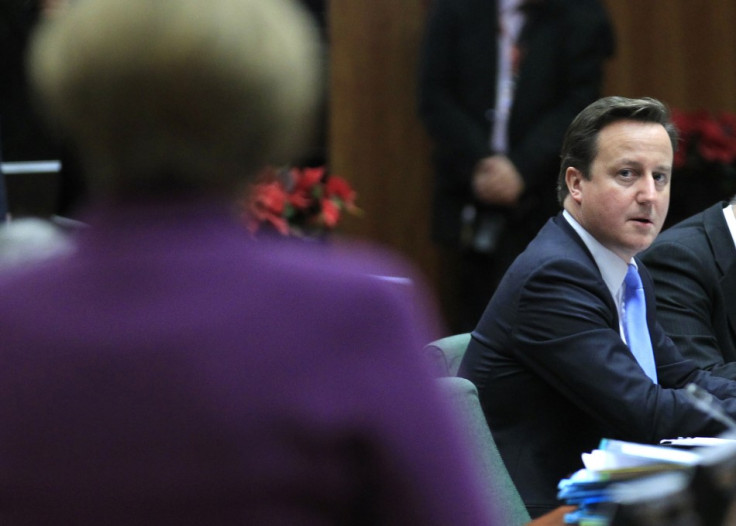 Tom Nicolson reports forThe International Business Times UK from Brussels in one of the most significant moments for the UK's 38 year history with Europe.
Already walking a tight-rope between protecting the City of London and upsetting his EU colleagues, at 4am this morning, the British Prime Minister chose to support the former.
Exercising his right to veto the new Lisbon treaty on the table, a power that Britain had not been used before until now, he had satisfied both the needs and the wants of his eurosceptic backbenchers and City leaders in the financial sector.
It was then things starting turning for the worse for the British leader.
Cameron, expecting a eurozone treaty to be signed exclusively between 17 members of the single currency was "surprised", according to a senior aide, that one by one the other nine members of the EU decided to also back the treaty. Only three of the 26 await confirmation from their respective national parliaments that would make it a full house. Britain, an island by geography and now an island politically, isolated itself from Europe in less than a day.
The press area was humming with debate on Cameron. Journalist for the Dutch newspaper Trouw, Gijs Moes, joked: "He might as well block up the Channel Tunnel."
Another journalist from the Guardian said it had been a "catastrophe" for Cameron and who had danced to the tune of his 80 eurosceptic backbenchers.
Clearly the prime minister had got the gist of what the hacks were to ask. Cameron, who didn't sleep at all while he was in Brussels, reacted by refusing to give the traditional press conference at the end of the day's meetings and instead choosing a caucus of selected journalists to make a statement to.
The Italian leader, Mario Monti said he had "demanded too much" which is why the UK was suddenly looking at alienation.
But in the latter hours of the day, long after the prime minister had gone, journalists started to consider "what if Britain was now better off?". Aqui Europa, a Spanish news organisation, reported that the British prime minister "had the best of both worlds". Another British reporter told the International Business Times the UK would be "better off" outside of the eurozone but still be a part of the single market - which it still is.
Nevertheless, it only time will tell if this has been the right decision for Cameron or not. What does seem to be safe though is the single currency, for now.