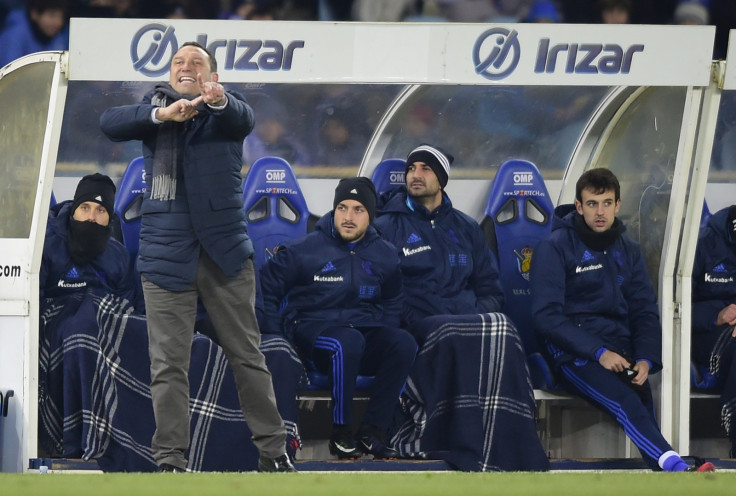 Real Sociedad manager Eusebio Sacristan has ruled himself out of the race to replace Luis Enrique at Barcelona, after revealing he would turn down a potential approach to return to the Nou Camp to stay at the Basque side.
Eusebio only signed a new deal at San Sebastian until 2019 last month, having done an impressive job at Anoeta since taking over David Moyes in November 2015.
But Mundo Deportivo reported last week that he was still in the final shortlist of four candidates to replace Luis Enrique at Barcelona alongside Everton manager Ronald Koeman, Juan Carlos Unzue and Ernesto Valverde.
The last two are said to be the favourites but Eusebio and the Everton boss are also on the list as the Catalans want a manager who has been at Barcelona before, having to rule out other candidates like Sevilla boss Jorge Sampaoli.
Eusebio was sacked as manager of the Barcelona second team in February 2015, but he is still reportedly well regarded by some members of the club board due his close links with the Catalan side.
Yet, the former Barcelona B boss had previously worked as Frank Rijkaard's assistant while was part of Johan Cruyff's dream team during his playing days.
However, Eusebio himself has ruled himself out of the job during an interview with AS.
Asked whether he would turn down Barcelona if the call him this summer, Eusebio confirmed: "Yes, I can assure you of that. I'll say the same to you as what I'll tell anyone else who asks that question. Maybe some won't believe me but I am 100% convinced about what I say. In life it's never a good idea to say never, but I cannot see any possibility of such a situation arising."
"I am not going to waste a single second more on that subject. I have it absolutely clear in my mind. I can understand a player having doubts, when everyone loves them. And I am not saying that I am not flattered that a great club might be thinking about me as a future coach - that means my work, thanks to a great club like Real Sociedad, is being recognized. I'm flattered, but it doesn't fulfill me. What would fulfill me is completing a great season with Real Sociedad, I am valued here, I am supported here and I owe them for that."
Yet, Eusebio refused to rule out a future move to the Nou Camp once his current contract at Real Sociedad expires in 2019.
Asked whether coaching Barcelona's first-team is a dream, he said: "Right now, no. My objectives as a coach are the same as the ones I set when I was a player – I want to enjoy a lengthy career – like I did as a player. I have found a club where I have all of the challenges and motivation I need. Doing great things with La Real will help me to have a long managerial career,"
"Barça? I don't know where the future will take me, or what will be motivating me in the future. Everything I am looking for I have right here at Real Sociedad, and I want to prolong that for as long as possible because I have found the perfect balance between my professional and personal lives and that is not easy. Thinking beyond that is not going to do me any good."