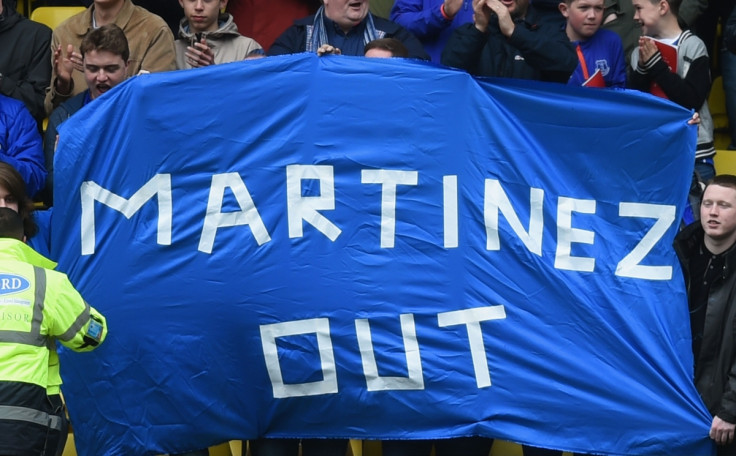 Everton manager Roberto Martinez understands the frustrations of Toffees fans in light of the team's poor form. The 42-year-old Spaniard has come under intense pressure in recent weeks as his side have failed to realise their pre-season promise, and Martinez says he has no complaints about supporters voicing their discontent.
Everton fans unfurled two hostile banners before their 1-1 draw against Watford at the weekend, including one calling for Martinez to be sacked. The result ended a run of three consecutive Premier League defeats, but Martinez accepts the criticism that has recently been directed at him.
"I think that comes with the job," the Everton boss told The Guardian. "Since day one, my first season at Everton, I'm extremely proud and honoured to be the manager and I accept that the fans are not going to be happy with the team losing.
"What's important is the fans always support the team in whatever way they can and help us to win games – and that's the only thing that matters. They know I would give my life to achieve a winning team. Everything we do is to make them proud, so I've got no problem with their discontent at times and football is an emotional game.
"I wouldn't expect anyone to be happy with poor standards and losing three games in the league for me, in my eyes, is very poor standards. There were some banners but I understand that completely."
The spotlight has fallen on the Everton manager after fullback Leighton Baines questioned the chemistry of the team in the aftermath of their recent 1-0 loss to Manchester United at Old Trafford. One of the banners at Vicarage Road at the weekend read "Baines is one of us.
.Asked what he thought of the Baines banner, the Everton manager said: "I thought Leighton performed extremely well and that's the only thing you can change as a manager. Leighton, like all of us, is disappointed that we haven't been able to win football games. It needs to be changed by performing well and winning games, and I thought Leighton didn't put a foot wrong and his performance was outstanding – and that's what we all want."