Incoming Everton boss Roberto Martinez claims Belgian midfielder Marouane Fellaini will remain at Goodison Park. There has been speculation the 25-year-old could leave for Arsenal in the summer, with reports Arsene Wenger triggered his release clause with a £22m offer.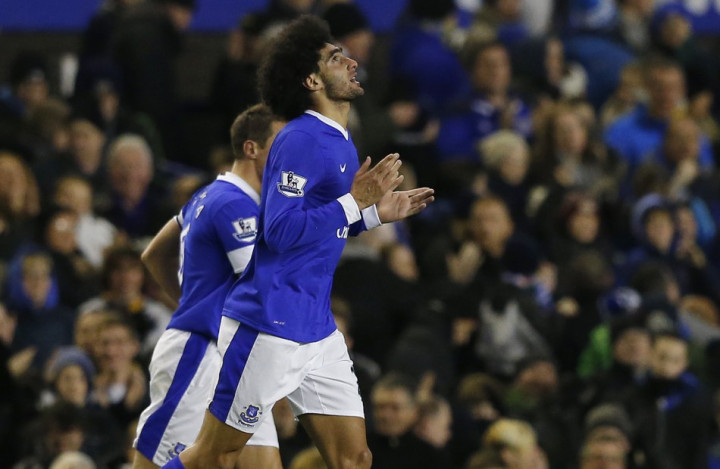 "I don't think it is an issue. You are not talking about a player who is out of the squad or in negotiations with another club. I won't look to speak to him about this because there is nothing to speak about. What I want is him to be ready for the next season, to be ready to take an important role at the club and understand that it is a big season for him," the Spaniard stressed.
"As an individual, he has got an exciting year in front of him and I don't think he is personally thinking, 'Am I going to be here?' I don't think that's in his head," the present Wigan Athletic manager explained.
Martinez did concede that he may have to fight off a number of clubs interested in his star players. He said that he planned to retain his top stars and promised a push for Champions League football.
"It is unstoppable when you have been as successful as Everton have that you will get other teams who want to take your players. That's normal - it is a football compliment and gets you going more. But, in this case, it's not an issue," the former Latics defensive midfielder explained.
Martinez comes to Goodison Park with the 2013 FA Cup under his belt, after Ben Watson scored a dramatic 95th minute winner. Unfortunately for the club, the euphoria of that win was flushed after a 4-1 defeat to the Gunners, in their very next match, confirmed relegation to the Championship.
The bullish stance taken by Martinez and chairman Bill Kenwright means that not only will Fellaini stay but other Everton players interesting rival clubs - left-back Leighton Baines, for example - will also remain. The 28-year-old England left-back was linked with a move to Old Trafford to rejoin David Moyes but that now seems unlikely.