Moreirense striker Nabil Ghilas says he is flattered by the reported interest in him from Everton.
The 22-year-old has been in impressive form in the Portugal Primera Liga side this season, scoring 11 goals, so far, for the newly promoted Minho-based club. Reports suggest the Toffees are considering a summer approach for the Algerian, while Marseille and Sporting Lisbon have also been linked with a move for the forward.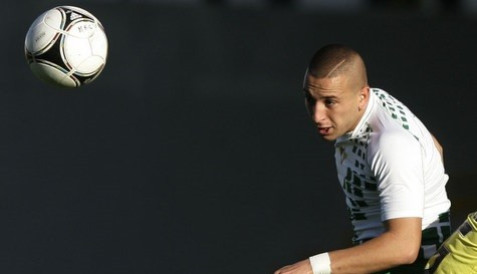 Ghilas claims he is aware of the interest in him from high-profile clubs but insists he will wait till the end of the season before taking any decision on his future.
"There is interest from clubs but I will decide at the end of the season. Everton? I have heard about that in the papers. They are a very good team and a big club so it is flattering. Let's wait and see if it is real interest at the end of the season. Marseille would also be fantastic but let's wait and see," the striker pointed out in a Sky Sports report.
Osman Hails Mirallas
Meanwhile, Everton midfielder Leon Osman showered praise on team mate Kevin Mirallas.
The Belgian forward, who joined from Olympiakos last summer, came up with a solo effort to give the Toffees a 1-0 win over Stoke City at the weekend. And Osman is confident the 25-year-old has the talent to swing a few more tight games in favour of the Merseyside outfit, as they push for a Champions League spot.
"Kevin can light up a game at times. It's important that we try and get him in the game as much as possible. You might get 20 minutes when he's not in the game, but when he is we all know what he can produce," Osman said.
"He's certainly showed he's got the quality. At times he's been a real plus for us the way he goes about his job and the skill he's got. It's vital we try and keep him out there more. We need to get more games in him and more minutes in those games," the England international added.