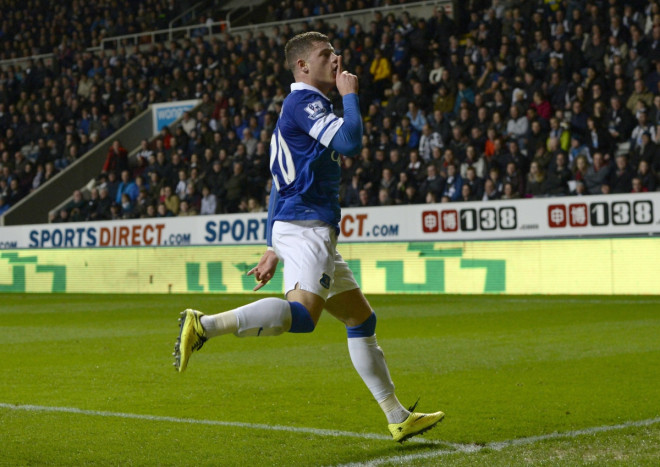 Everton manager Roberto Martinez is concerned that Champions League-bound teams will attempt to sign midfielder Ross Barkley, amid reported interest from Chelsea and Manchester United.
Barkley is expected to be included in England's World Cup squad this summer after enjoying his breakthrough campaign at Goodison Park and scored the latest of his five Premier League goals this term against Newcastle United in midweek to keep the Toffees in contention for qualification for Europe's elite club competition.
Martinez has rarely shirked away from lavishing praise on Barkley this term and in the wake of interest from both Chelsea and United – the Premier League's remaining representatives in the Champions League this season – the Spanish boss is expecting plenty of interest in the 20 year old who is tipped to replicate Gareth Bale's success.
"It would cost them a lot of money!" the Everton boss replied when asked about expecting rival bids. "He is as good an English talent as we've seen and that's going to alert teams competing to win the Champions League, never mind the Premier League. He's got the potential to achieve what Bale did.
"You're talking about two to three years to fulfil that – that goal at Newcastle in midweek shows what he is. As well as the power, he has the control and the class.
"Once a player fulfils his potential and has done everything at a club, it's not positive for anyone to keep him because he's then not going to produce the kind of performance the team needs."
United boss David Moyes has already signed Marouane Fellaini from former club Everton and though he failed in attempts to lure Leighton Baines to Old Trafford has been linked with making Barkley part of a mass overhaul at the Premier League champions.
Chelsea meanwhile are overstocked with midfielders after signing Nemanja Matic in the January transfer window but the imminent departures of Frank Lampard and John Obi Mikel could pave the way for a bid for Barkley.
Nevertheless, Barkley's emerging talent has not gone unnoticed by either Chelsea or United and Martinez will most likely be keen to secure a new deal for the England international, whose character has particularly caught the eye of his manager.
"The most impressive thing for me is his character," Martinez added. "Nothing and no-one upsets him in a game, even if some opponents try to. We don't produce many players with that mental discipline, unfortunately. It's the biggest factor he has. I am reminded of [Andres] Iniesta and Xavi, players with that mentality and character.
"Ross has got everything to be as good as he wants. He is the perfect fit for Everton and the perfect fit for what we want to do in the future. We want to build the team around him.
"At the moment, he needs to keep playing at Everton and, hopefully, we can use his development to take the club forward so that we don't have to lose him. That's the next challenge for us."