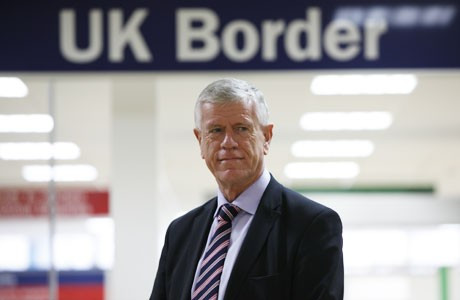 The former head of the UK Border Agency, Brodie Clark has flatly denied the allegations that "he went beyond ministerial consent" by privately widening the controversial pilot scheme - a statement that contradicts Theresa May's, the home secretary, view of affairs.
Mr Clark, speaking to the Home Affairs Committee of MPs , said: "Neither did I extend or knowingly go beyond the boundaries of the pilot. My senior team had complete clarity on the home secretary's requirements which went exactly as she and I had wished."
Mr Clark went on: "I have, as I always have over 40 years, delivered within the Government parameters and I have done so with an absolute determination to strengthen the UK border.
"We have built a strong agenda of getting the best from our staff; exploiting the most from our technology and focusing strongest on the real harm and threat to the UK.
"We have come a long way in three years and it is by no accident that we now rank as one of the most secure border operations in the world."
The statement will put pressure back onto Mrs May, who was accused of making Clark a scapegoat after news of thousands of visitors had entered the country without being checked against the warnings index after the original pilot had been widened.
Clark, 60, who is suing the government for constructive dismissal, said that he was "not a rogue operator", and reported directly to the Home Secretary of the progress of the pilot every week.
Furthermore, he denied ever admitting to the Rob Whiteman, the UKBA Chief Executive, that he had gone beyond ministerial consent with regards to the pilot but did suggest that he may have done so on other border controls such as automatic fingerprint measures which were suspended over 50 times over the summer.
The shadow home secretary, Yvette Cooper, speaking in the Commons, said that Mrs May "cannot keep running away" and that must come forward with a clear version of events, which seem to be skewed by the today's developments.
The prime minister, David Cameron, who will answer questions from Ed Miliband tomorrow, backed the story