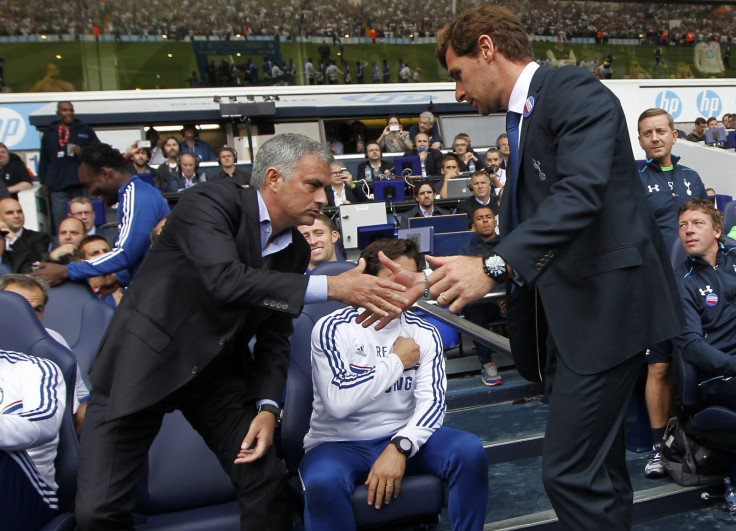 Former Chelsea and Tottenham Hotspur boss Andre Villas-Boas has ended his quarrel with Jose Mourinho, claiming he would now be happy to share a drink with his former mentor.
Villas-Boas, now managing Russian giants Zenit St Petersburg, spent seven years working under Mourinho at Porto, Chelsea and Inter before breaking away after seeing his plea for a more senior role rejected.
Last season saw the two managers meet in opposing dugouts for the first time during Villas-Boas ill-fated spell as Spurs manager. In the build up to that, the 37-year-old revealed the extent of his deteriorating relationship with Mourinho, before adding he "doesn't lose any sleep" over their parting.
But the coach insists there is now no animosity between the two, telling Portuguese TV channel TVI he would gladly sit down for a glass of wine with the Blues manager.
"If that opportunity arises again, why not?" Villas-Boas is quoted as saying by Maisfutebol: "This question is always asked as if there was animosity between us. We were chatting just a while ago.
"There is a relationship of mutual respect and we can't forget our achievements together which left a big mark. Of course, when you become rivals friendships usually rake second place. It shouldn't happen but that's the way it is."
In the wide-ranging interview, Villas-Boas also discussed his difficulties at White Hart Lane, accusing chairman Daniel Levy of ignoring his transfer targets that included Chelsea midfielders Willian and Oscar before their moves to Stamford Bridge.
He said: "In the second season, at the time I left we had more points than in the previous season. I ended up leaving by mutual agreement - it wasn't a sacking - because I gave full support to the football director Franco Baldini who meanwhile had other ambitions, meaning that I ended up with players that did not fit the profile I wanted.
"The chairman proposed a challenge to increase Tottenham's competitive level, but immediately Modric left and we didn't get any of the targets I had identified, such as Joao Moutinho, Willian, Oscar or Leandro Damiao.
"These were promises that were not kept. I had a group of players I had not chosen. In two years I lost Van der Vaart, Modric, Bale, and all the promises made were unfulfilled."