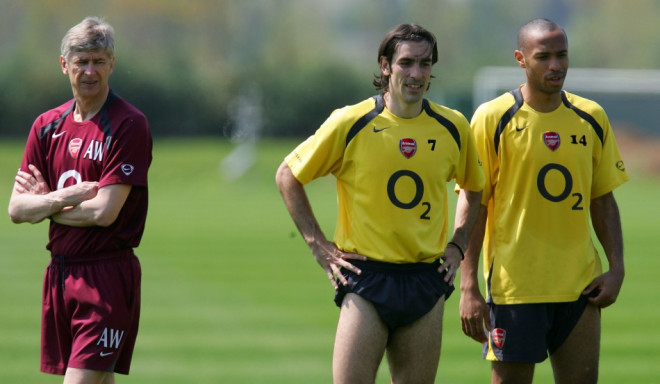 Arsenal legend Robert Pires has told IBTimes UK that Santi Cazorla is the club's current leader, and claimed the Spaniard is at least as good as the club's record signing Mesut Ozil.
Arsenal signed the Spanish playmaker in 2012 from Malaga for around £15m, almost three times less than they paid last summer to lure Ozil from Real Madrid.
But Pires, who is currently training regularly with Arsenal's first-team and maintains a strong relationship with Arsene Wenger, believes that Cazorla is still the most valuable player in Wenger's squad.
Asked by IBTimes UK who is Arsenal's leader this season, he said: "Cazorla, he is the leader".
"I know him well and at the moment he is at the same level at Ozil. He has a lot of quality".
Nevertheless, Pires believes that Ozil also has the potential to succeed at Arsenal, even though he has struggled in recent times to make the impact expected.
"I train regularly with Ozil and he is very good. He has a lot of quality, his pass is amazing. He is currently struggling for physical reasons. I also had that drop of level when I moved from Marseille.
"The Premier League is very different. You have to play many games in December and January and Ozil was not used to play so many games. But he is very good."
And asked if Ozil really worth £45m, he said: "Price is not a big deal"
"Those are Presidents' issues. We cannot say how much he is worth. Madrid gave him a price and Arsenal agreed to pay because they thought it was a good deal."
Nevertheless, Pires admits that Arsenal's top priority last summer was to sign a striker rather than Ozil, and they only signed the German on deadline day because they failed to sign real target Luis Suarez.
"Wenger knew that he needed a striker and he tried to get one until the very end. It was the priority but no one wanted to come to Arsenal. He tried to sign Luis Suarez and Higuain, and I am not sure but I think he also tried to sign Rooney. They didn't want to come and suddenly came the opportunity to sign Ozil and he did it."