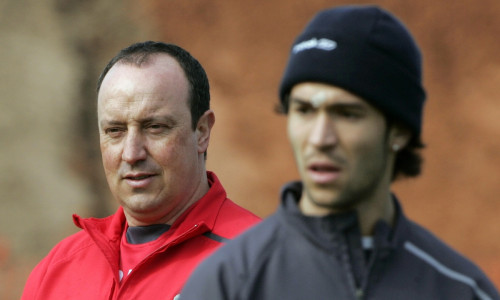 Liverpool legend Luis Garcia has told IBTimes UK that manager Rafa Benitez was the key factor in Liverpool's recent success, as the current Napoli boss managed to get "200%" from his players.
The Spanish manager spent five seasons at Anfield, leading the club to a Champions League victory in 2005 and also winning the FA Cup, the Super Cup and the 2006 Community Shield.
In an interview with us, Garcia claims that the Spanish boss was crucial in the Reds succeeds during his time at Anfield.
"Rafa was the key. He got the 200% from each player. He got the maximum from a team with less talent than Juventus, Milan, Chelsea or Manchester United.
"Getting what he got was not expected from anyone. He was responsible for Liverpool's success."
At the same time, Garcia, who was previously managed by Benitez at Tenerife, reveals the boss's influence in his decision to leave Barcelona for Merseyside.
"Having the boss' trust in a team like Liverpool is all that I needed. Liverpoool allowed me to win titles and with Benitez I also knew that I was going to play an important role for them.
"Barcelona decided to sign Eto'o, Deco and Giuly and it was going to be very difficult to play there so I decided to move to Anfield.
"Benitez was key in my career not only because he gave me the chance to play in a big team like Liverpool, where I could win titles, but also when I was young he taught me a lot at Tenerife.
"With him I learned to sacrifice myself and this is very important for your future when you are still young."
Benitez's successors Roy Hodgson and Kenny Dalglish failed to replicate the Spaniard's success while current manager Brendan Rodgers is still trying to restore Liverpool to the pre-eminence the club enjoyed during the 1970s and 1980s.