SC Internacional are yet to receive an official offer for young Brazilian striker Leandro Damiao, amid renewed speculation linking him with a move to Tottenham Hotspur.
Damiao has attracted attention from clubs across Europe this season, after scoring eight goals in 10 appearances for the Brasileirão side.
In November, a spokesman for the player confirmed Damiao was being monitored by Arsenal and their north London counterparts Tottenham, suggesting both clubs had made offers for the youngster.
But these claims were subsequently refuted by a source close to the player, who told the IBTimes UK that while a number of clubs have expressed an interest in the player, he has heard nothing official from either Arsenal or Tottenham.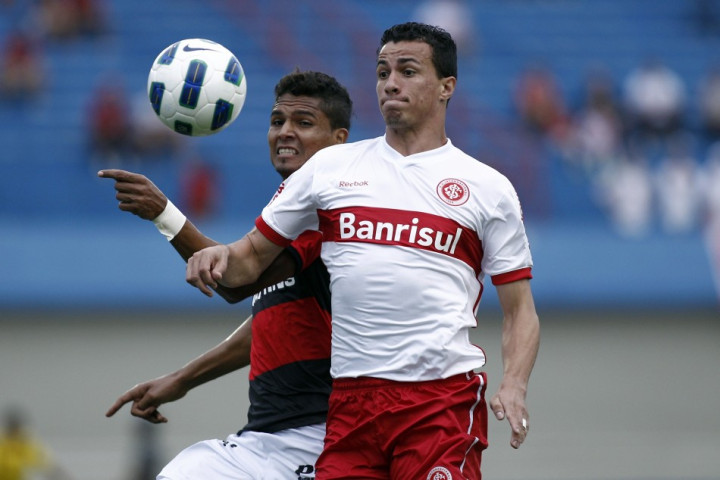 "In the last 12 months, 20 clubs from all over Europe showed interest and asked for Leandro Damiao. 90 percent of them had [the] complete wrong idea of the price that Inter wants for him," the source, who spoke on the condition of anonymity, said in January.
Nevertheless, the Damiao admitted earlier this week that he would relish a move to either England or Italy and hinted that he was close to agreeing a deal to leave Brazil in the summer.
"There will come a day when I will play in Europe," Damiao was quoted in the Daily Mail earlier this week.
"It will be very important for me to learn and improve. For my style and strength, I think I could adapt to any major league in Europe. But it seems to me that strikers are most appreciated in Italy and England."
The 22-year-old is expected to command a significant transfer fee should Tottenham or Arsenal formalise their interest in the player. The powerful centre-forward has scored 65 goals in 104 matches for Internacional and was awarded his first international cap against Scotland 12 months ago.
And while Damiao remains open to the possibility of leaving Internacional in the summer he is unlikely to be sold unless the club receives an offer that triggers his €50m buy-out clause.
"I don't believe that SC Internacional president Giovani] Luigi will let him go for under €25m," the source told IBTimes UK. "If there appears a good offer, of course he will be very open, anyway if it is from England, Spain or Italy. But he has no hurry, because he feels very well at Inter. He doesn't do things like boycott his club, for forcing a liberalization.
"It is no secret, that Tottenham and other clubs are interested. The question will be, if someone is willing to pay the transfer fee that Inter wants for him."
Damiao is currently preparing for his side's Copa Libertadores clash against Santos in Porto Alegre on Wednesday. The hosts are currently two points behind Santos in Group 1, with two games remaining. And Damiao has acknowledged that there will be no love lost between the two sides when they line up at the Beira-Rio this evening.
"We always just play, regardless of which team it is against," Damiao is quoted on Goal.com.
"Friendship off the field is normal, but this does not mean that we do not want to put everything into the game. We cannot be friends during the game. We are in need of a victory [to qualify] and we have to get it."