'Extremely dangerous' £2,000 dog-walking drone pulled from sale as PR stunt backfires
Proflight Walkies Dog Drone claimed to be based on the DJI Phantom 4 drone.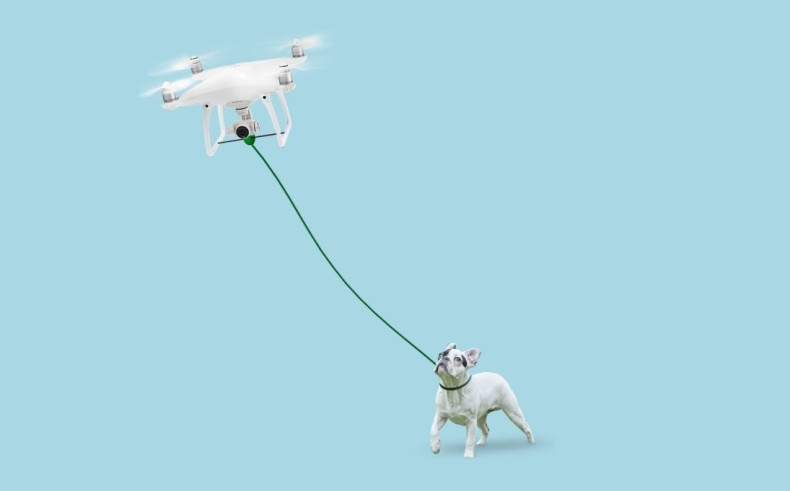 A £2,000 (€2,500) drone advertised as a way to walk your dog hands-free has been removed from the retailer's website after it was branded "extremely dangerous".
Called the Proflight Walkies Dog Drone, the quadcopter was advertised for sale by West Yorkshire firm Drones Direct. It was claimed to be based on the DJI Phantom 4, a powerful drone popular with hobbyists and aerial photographers.
But the drone, which was said to have been fitted with a retractable dog lead to keep canine friends "safe and under control", was slammed by DJI, who had not authorised the modification of its drone.
'Extremely dangerous'
A DJI spokesperson told IBTimes UK: "We do not condone using a drone in this way and as a responsible company who prioritises safety, we asked for it to be removed. While we recognise this is a PR stunt, it would be extremely dangerous to use a drone in this manner both for the animal and anyone in the vicinity."
The retailer suggested dog owners could let the drone walk their dog unaccompanied, stating: "You can use your smartphone to keep an eye on your dog to be sure they're on their best behaviour via the drone's built-in camera."
Safety concerns
The drone also raised concern at Dogs Trust, the UK's largest dog welfare charity.
Speaking to IBTimes UK, a Dogs Trust spokesperson said the charity "has concerns about the safety of dogs being walked by drones. A drone cannot guarantee that a dog will be kept safe or under control and could put the dog at risk of getting lost or stolen."
The retailer had originally claimed the drone was a real product, despite using mocked-up images to demonstrate how it would work.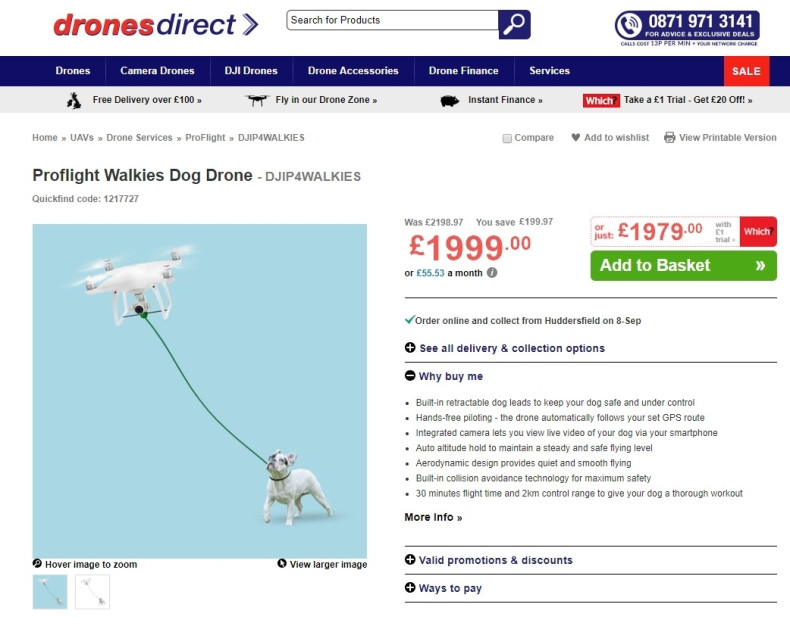 Drones Direct marketing manager Mark Kelly told The Sun newspaper the device is a "great alternative for pet owners who lead busy lives by giving the option of hands-free walking".
But after it was removed from the site, following a conversation with DJI, a Drones Direct employee admitted to IBTimes UK that it was in fact a publicity stunt. One which had "attracted a lot more attention than we expected".