On Saturday 22 July, the UK government announced that it will now be mandatory for the owners of all drones that weigh more than 250g to officially register themselves and undergo safety awareness training.
The announcement was made in conjunction with the release of a paper by the Department for Transport, the British Airline Pilots' Association (BALPA) and the Military Aviation Authority (MAA), chronicling the results of tests pitting a consumer quadcopter drone against commercial airliners and low-flying helicopters to see what the impact would be.
The results showed that drones could indeed cause a great deal of damage to various parts of helicopters and the windscreens of jetliners.
The government says that its decision was also inspired by the results of a public consultation on drone safety, which was also published at the same time.
The consultation found that the UK public is concerned about safety, privacy and security and wants to see action taken, in the form of mandatory registration, better education about unmanned aerial vehicles (UAV) in schools and in the media, as well as designated areas being appointed in rural areas where people can legally and safely fly their drones.
However, the exact ins and outs of how drone registration will work has not yet been figured out, and there continues to be a lack of resources in policing drone incidents, say experts. In the US, the Federal Aviation Administration (FAA) is having to refund hobbyists their $5 (£3.84) registration fee, after a federal court found that the FAA's rules were in violation of a 2012 law passed by Congress.
No one knows how it will work
"The mechanics are still to be worked out," Paul Rigby, chief executive of ConsortiQ, and an advisor in several committees working with the UK government on drone legislation told IBTimes UK.
"There are many things to consider – it's easy to register the drone at the point of sale, but which bit do you register? The controller? The drone itself? If we have a registration system just to satisfy stakeholders, it's not going to work."
The changes are a welcome relief to the professional drone and hobbyist community, which has been following existing regulations, such as the requirement that all commercial UAV owners need to pass a pilot training course and become licensed to fly.
However, there are concerns that there is not enough being done about rogue commercial operators who refuse to get certified, as well as members of the public who flout the Civil Aviation Authority (CAA)'s drone code by flying drones close to airports and over private property.
"We have existing regulations but we don't have any way to police them. The CAA have delegated the responsibility of enforcement to the police, but the police themselves are also having resourcing issues. Trying to capture a rogue drone isn't as high priority as dealing with crimes like murder and burglary," said Rigby.
"There's a huge group of responsible hobby users who have been doing this for a long time and operating under their own regulations, and now there's this very small minority of consumers that are able to buy a very capable aircraft off the internet, unbox it and go fly without ever having any awareness of how to fly safely and responsibly."
Drone retailers need to help out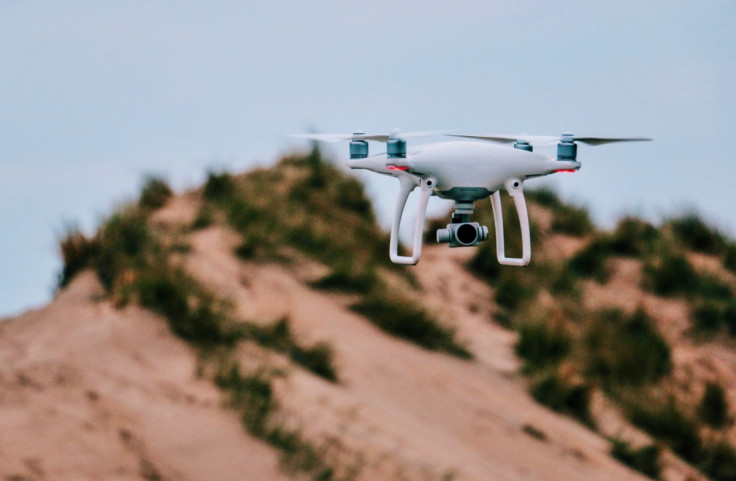 There is also increasing criticism from the UK drone community about how online retailers advertise UAVs – for instance, UK electronics retailer Maplin routinely lists the full technological capabilities of each drone they sell.
The specs are far greater than the CAA's drone regulations, which state explicitly that users cannot fly at heights of above 400ft or out of direct line of sight (500m). There are concerns that online retailers both in the UK and abroad could be giving consumers a false sense of what they are actually permitted to do with the UAV.
The world's largest consumer drone manufacturer DJI welcomes the drone registration plans, and says it is happy to aid governments in providing assistance in scientific studies into the risk posed by drones.
"Drone technology offers enormous benefits to the UK, and the Department of Transport's proposal appears to strike a balance between protecting public safety and bringing those benefits to the UK's businesses and the public at large," said Brendan Schulman, DJI Vice President of Policy and Legal Affairs.
"DJI has invested heavily in adding security features and is pleased that the government will work hand in hand with industry and other stakeholders to ensure progress and allow technological innovation. DJI will review the details of the government's proposals closely as they become available, but we are encouraged by the fair and thoughtful approach they have taken to date."
Some drone retailers now include a drone code flyer from the CAA in the box with the UAV, but it is currently voluntary, and if people buy drones from overseas, the online retailer is unlikely to include education on drone safety.
"What is being considered is stopping drones at the point of import. For example, UAE is very strict about what technology you're allowed to import into the country and they have a strict drone registration system in place," explained Rigby.
"People in the drone industry are apprehensive, as you don't have to look very far on the internet to find videos of people flying recklessly. There's a risk to the entire industry if we don't proactively tackle the issue of drone safety."