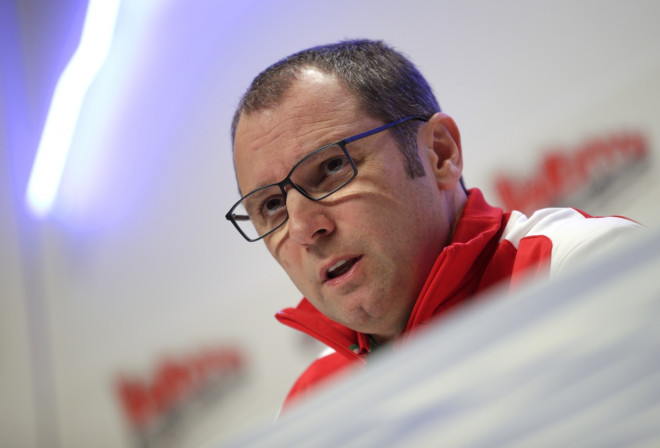 Stefano Domenicali has become the first casualty of Ferrari's seven-year drought without a world champion after resigning as team principal after three races of the 2014 season.
Marco Mattiacci, chief executive of Ferrari Americas, steps into the role as new head of sports management with immediate effect.
Despite the team being led by world champions Fernando Alonso and Kimi Raikkonen, Ferrari have struggled to make an impact on the podium this year and Domenicali admitted in early April the F14 T required significant changes.
And the team principal has taken the fall for Ferrari's lack of competitiveness since last claiming the constructors' title in Domenicali's first season in 2008, with Alonso having twice come agonisingly short of the world title in 2010 and 2012.
In a statement on the Ferrari F1 official website, Domenicali said: "There are certain moments in professional life for each of us where it takes courage to make tough decisions and also suffer a lot. It's time to implement a major change.
"Again, I take responsibility - as I always have - for the situation we are experiencing. It is a choice taken with the desire to do something to give a jolt to our environment and for the sake of this group, which is closely linked. I sincerely thank all the men and women of the team, the drivers and partners for the wonderful relationship had in years.
"I hope you can quickly return to the levels that Ferrari deserves. Finally, I would make the final thanks to our president for having always supported and I salute all the fans with the regret of not having gathered how hard sown in these years."
Ferrari currently sit in fifth in the constructors' championship and have seen the likes of Mercedes, Force India and Williams thrive under new Formula 1 rules which have shaken up the 2014 campaign.
Mattiacci replaces Domenicali as president Luca di Montezemolo looks to shake up his team's fortunes on the track.
"I thank Stefano Domenicali, not only for his ongoing contribution and commitment, but for the great sense of responsibility that has demonstrated today by putting the interests of your Ferrari," the president said.
"I (have) respect and affection for Domenicali, I have seen grow professionally in these twenty-three years of working together and for that I wish him every success in his future.
"I also want to wish good job to Marco Mattiacci, a manager who knows the value of the company and who enthusiastically accepted this challenge."